Hawaii regulars might not necessarily vote Honolulu as the jewel on Hawaii's crown; however, the city is a great jumping off point for adventures on Oahu island and its natural wonders. A short trip to the city and its surrounds is still enough to give you that feeling of being on the edge of the world, with no less than the world-famous Banzai Pipeline and historic Pearl Harbour as your backyard.
Four days in Honolulu is nowhere near close to covering all the amazing spots and things to do on the island of Oahu, but it's definitely good enough to get a proper taste. Here's what you can pack into your quick trip to paradise:
DAY 1: Honolulu highlights
Climb to the top of Diamond Head
Hike to the top of this iconic summit, where you can enjoy the view of Waikiki Beach from the lookout. It will take around 1.5-2 hours roundtrip; have breakfast before or after at Monsarrat Avenue. You can also explore the neighbourhoods of East Honolulu such as Moliili and Kaimuki, littered with boutiques and quaint restaurants.
Learn about local culture at the Bishop Museum
Perfect for a rainy day, the Bishop Museum is the one indoor activity you shouldn't miss in Honolulu. Founded in 1889, the state-designated history and culture center houses five beautiful exhibit halls telling the story of the Hawaiian Islands and their oceanic neighbors.
The natural science wing features a 3-story volcano simulation at its center, while the Pacific and Hawaiian Halls unpack the history and culture of the Polynesian and Pacific Islands. Check the website for the planetarium schedule, daily tours, hula and other demonstrations.
Appreciate a hula performance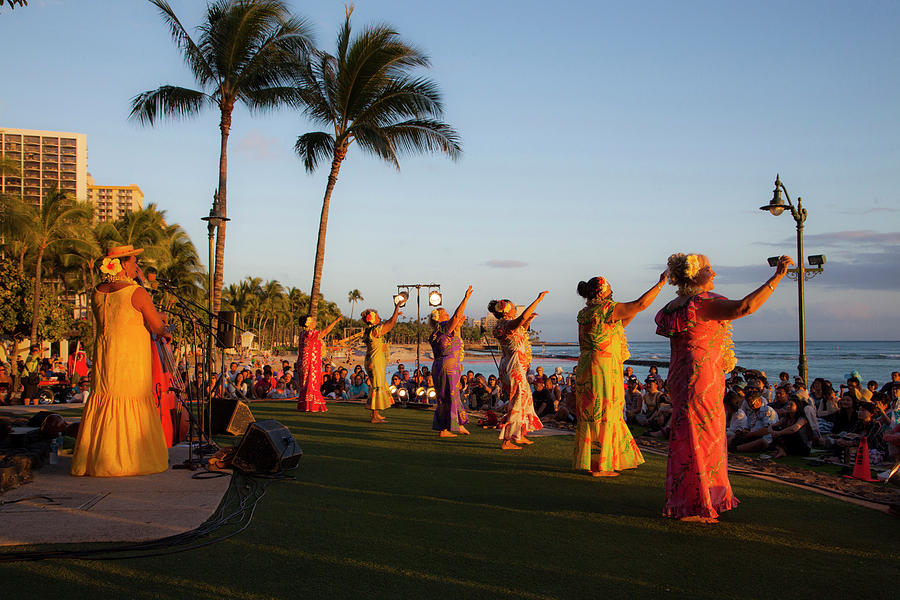 The art of hula is unreal to see, especially when watching professional hula performances; these leave audiences mesmerized and gaping in disbelief at the seemingly impossible way the dancers are able to move their bodies.
You can either splash out on a poolside hotel show or dinner extravaganza, or catch a free one at the Kuhio Beach Park. From Tuesday to Sunday at 6:30pm, free hula and Hawaiian-music performances are staged there, as well as a torch-lighting ceremony at sunset. 2461 Kalakaua Ave past the Moana Surfrider Hotel to the Kapahulu Ave. pier
DAY 2: Day tripping
Visit the historic battle site of Pearl Harbor
Hawaii's largest natural harbor is not only beautiful, it's also a well-maintained open-air museum that you could spend an entire day in without getting bored. Try to reserve your tickets ahead of time for the popular sites, if possible, as same-day tickets can disappear within the hour.
Tickets for the USS Arizona Memorial – the most famous point of interest – are free and on a first-come, first-serve basis. Plan to arrive early if you want to get in and join the tour, which takes 1 hr 15 min including a 23-minute documentary of the attack and a ferry ride to the memorial itself.
Clambering over the USS Bowfin submarine is a different and wholly enjoyable experience as well, while the USS Missouri battleship memorial completes the triumvirate of Pearl Harbor. Don't forget to bring ID!
Book online: Honolulu Pearl Harbor, Iolani Palace & USS Arizona Memorial Tour – Half Day
Hike to Kaena Point
The surreal landscape of Kaena Point lies on the westernmost point of Oahu, one of the last dune ecosystems in all of Hawaii. It's a popular place for whale watching (specifically, migrating humpbacks), and is also home to a population of endangered seabirds, monk seals, and green sea turtles.
Walk or bike the coastline at sunset – but make sure you have time to get out before dark!
Eat at a famous shrimp truck
Eating a plate of garlic shrimp from a food truck is a classic Oahu experience. You'll surely find some on the drive to/from Honolulu, so long as you keep your eyes peeled!
DAY 3: Live like a local
Get a surf lesson on Waikiki
You're at the birthplace of surf, after all! You can walk along the beach at Kalakaua Avenue and find a tanned instructor to teach you the basics. Waikiki is a great spot to learn, accessible with a cool skyline view, and still-clean waters. You can also head to the Kuhio Beach Park beach center, where surf lessons for beginners are available every half hour.
Find Shangri La
Atop the cliffs of Diamond Head, you can find the lavish oceanfront home of female American philanthropist Doris Duke. The sprawling, 5-acre estate commands sweeping views, exotic gardens and a 75ft saltwater pool. Inside, the mansion contains an extensive collection of Islamic art, mostly acquired during her travels.
Tours begin at the Honolulu Museum of Art Downtown. It starts with a visit to the Gallery featuring the Arts of the Islamic World. You'll then be taken by van into the house itself, on the far side of the Diamond Head ridge. 900 S. Beretania St., Downtown Honolulu. www.shangrilahawaii.org
Explore Chinatown
Nope, it's not your typical Chinatown experience. Honolulu's version has been transformed into the heart of Oahu's arts scene. The vibrant neighbourhood is home to trendy restaurants, hip bars, art galleries and chic boutiques. If you're there on the first Friday of the month, come for the block party during which establishments stay open till late and live music plays at bars.
Alternatively (or additionally), discover Oahu's after hours scene. No, it doesn't have to be cocktails by the hotel pool at sunset; in this multicultural metropolis, you can find anything from jazz and wine to salsa dancing!
DAY 4: Wrap up the must-sees
Snorkel at Hanauma Bay
The keyhole-shaped Hanauma Bay is one of Oahu's most famous natural landmarks. The nature preserve has been described as the world's biggest open-air aquarium, built into an old volcanic crater. Visitors are required to watch a nine-minute video about the area before being allowed down to the bay, although the coral can be a bit underwhelming for those who have snorkelled in Indonesia or the Philippines.
Come as early as you possibly can (around 7am) before the crowds arrive; parking is difficult later in the day. Snorkeling equipment and lockers can be rented onsite. The beach is closed on Tuesdays; from Wednesdays to Mondays, it's open from 6am to 6pm. 7455 Kalanianaole Hwy
If you want to cover a lot of ground, consider the Full Day Oahu Grand Circle Island Tour including Hanauma Bay
Visit Iolani Palace
America's only royal residence contains the thrones of King Kalakaua and his sister-successor Queen Liliuokalani. Join a guided tour or do a self-guided audio tour; make sure to reserve in advance. King and Richard Street corner, Downtown Honolulu. Mon-Sat 9am-4pm. www.iolanipalace.org
Check out the following tours if you're looking to make the most out of your Oahu trip: