Visiting Asia in the latter quarter of the year? Don't miss these vibrant cultural events and music festivals in Asia happening from October to December!
While this season is known for its Christmas markets in Europe, the countries of Asia are predominantly Buddhist, Muslim and Hindu. With various colourful religious ceremonies and music festivals to attend, as well as seasonal and other annual celebrations, there's plenty to see and participate in.
The months from October to December are also some of the best in terms of weather in Southeast Asia (See: Bali and Bangkok weather). In the Northern countries, meanwhile, you'll be treated to fall foliage in spectacular colors of red, orange and yellow.
From Japan and Thailand to India and Laos, here are 14 celebrations and festivals you might want to catch around Asia:
1. Lantern Festivals Loi Krathong & Yi Peng – Thailand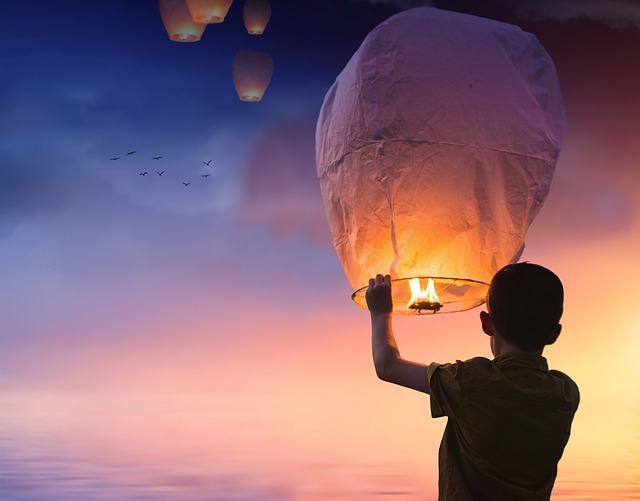 When: Mid November; dates vary each year. In 2019, Loi Krathong is scheduled for Wednesday, November 13; Yi Peng in Northern Thailand will be from November 11-12, 2019.
Two Thai festivals of utmost importance occur in the latter half of the year. Both Loi Krathong and Yi Peng are enchanting cultural celebrations dedicated to Mother Nature. As a country that traditionally relies on agriculture, these annual Thai festivals give thanks to the sky and waterways.
Loi Krathong translates as 'floating banana trunk' and describes the process of attaching candles and incense to the trunks and releasing them into the river. This happens all over the country, including Bangkok.
Yi Peng is a variation of the same festival practiced in Northern Thailand. Each year, the Chiang Mai skies are illuminated by floating paper lanterns. As these offerings are released into nature, the Thais thank Mother Nature and pray for the upcoming year. Visit Chaing Mai in November to experience it with them.
Looking for more events in Thailand? Visit Chiang Mai in October for the annual Lobster and Crab Festival. Alternatively, you can visit Chiang Mai in December for the annual Chiangmai Food & Entertainment Festival held at Choeng Doi Market.

2. Winter Light Festival – Japan
When: From October 15 until the end of the year.
The relatively small city of Kuwana isn't the most well-known destination in Japan, but come October it's by far the most magical. The botanical gardens, already impressive with their tulips, pansies, and daisies, become truly breathtaking thanks to the Winter Lights Festival.
Over 7 million bulbs illuminate the gardens while solar panels are used to reduce the impact on planet Earth. Winter in Japan is chilly, so throw on a warm jacket and prepare for a magical display!
3. Bon Om Touk (Water Festival) – Cambodia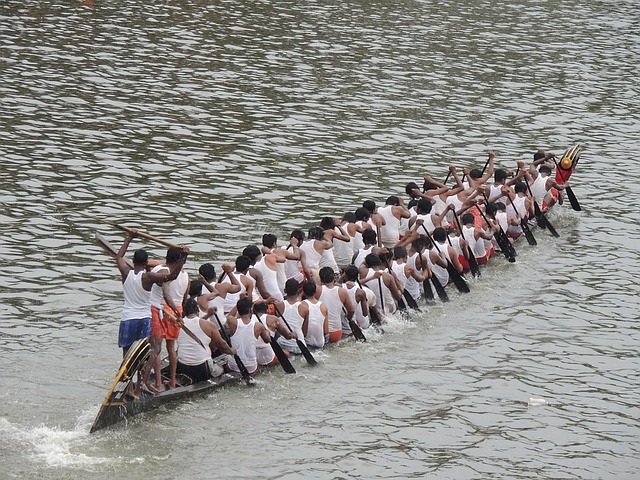 When: The 12th day of the Khmer Lunar Calendar (usually November). In 2019, it will occur from November 10-12.
While monsoon marks the end of the dry season and gives life to arid Asia, the passing of the rainy season is also heavily celebrated. Bon Om Touk is a local festival observed around Cambodia but celebrations are most festive in the capital, Phnom Penh.
Cambodia is somewhat out of sync with the rest of Asia when cultural celebrations are concerned. While Bangkok in November is a relatively quiet month, it's the best time to visit Phnom Penh.
As water floods back into the Mekong Delta, locals celebrate with boat races, fireworks, parades, and general merriment. If you can time your trip to Cambodia around the Water Festival, it'll be one of the best memories of your Asia trip.
4. Awk Pansa or Thod Kathin – Thailand, Laos, Myanmar
When: October 13 to November 10, 2019
Versions of "Lent" are observed by several religions around the world, including Buddhism. While it varies from country to country, Buddhist monks around Southeast Asia traditionally avoid meat, alcohol, and cigarettes from July through October. This coincides with the wet season, and when it lifts, a celebration is held to mark the end of "Lent".
During Wan Awk Pansa, locals take the day off work or study and visit temples in their family groups. Candles are placed in temples, and locals walk around them three times in a clockwise direction. During prayer, colorful gifts including food parcels are offered to the Gods.
Where to see the celebrations? When it comes to the Wan Awk Pasana Thai festivals, you'll find Bangkok events to be the most vibrant. Visit Bangkok in October and you'll find the city's temples bustling with activity.

Join a temple tour in Bangkok to see the festivities at their most colorful; check out the popular Bangkok Temples Instagram Tour where you'll visit Wat Arun, Wat Pho, and Wat Saket — the most famous sites that celebrate Thod Kathin.
5. Hmong New Year – Vietnam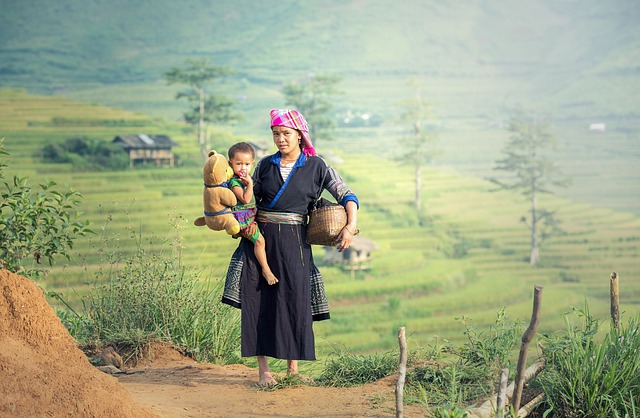 When: Early December
December is a colorful time to visit the hill tribes that reside in Northern Vietnam, Laos and Thailand. Not only is the region alive with flora and fauna, a vibrant celebration of culture is also held. Locals take a break from farming and celebrate in the villages with games, dancing, and community events.
The superstitious Hmong believe it's bad luck for festivals to last an even number of days, hence New Year must last at least three. In some cases, it's been known to last more than a month!
If you're planning a trip to the Hmong region of Sapa in Northern Vietnam, consider timing it around December to celebrate New Year with the locals. (See: Hanoi Sapa Trekking Tour: Cat Cat Village, Fansipan Peak and more – 2 Days 1 Night)
Where to see the celebrations? If you visit Hanoi or Bangkok in December, you'll miss the action. Stick to countryside regions for a real taste!
6. Gandrung Sewu Festival – Bali
When: October 12, 2019
Visiting Bali in October? Here's a colorful local celebration for your bucket list. Gandrung Sewu is one of Asia's newer cultural festivals, first held in 2012. Locals and tourists alike gather to watch performers in traditional Balinese dress recreate scenes from ancient folklore using theatrical song and dance.
After this vibrant festival, Bali in November and December is pretty quiet. Soak up the festive spirit while you can!
Looking for more Bali events? The Denpasar Festival on December 28 is the next local celebration in the Island of the Gods. If you've visiting Bali in December, be sure not to miss it.

If you're looking for other activities to do around Bali, check out our list of 15 Things to Do While in Bali.
7. Wonderfruit Festival – Thailand
When: December 12-16, 2019
This modern festival is said by some to be the closest thing Asia has to Burning Man in the US Nevada Desert. Held in The Fields of Siam Country Club in Pattaya, Thailand, this "celebration of art, food, music and ideas" is well loved by the younger, hipper set not just from Asia Pacific but from international audiences as well.
What to expect? Everything from Scratch Talks speaker series to art and architecture installations, fitness workshops and hypnotic dance sessions. See our guide to Wonderfruit here!
8. Diwali Festival – India
When: October 25-29, 2019
Diwali or Deepavali as it is known in Sanskrit, is a five day festival that originated when the locals celebrated the return of Lord Ram and and his wife Sita to the kingdom of Ayodhya. The story goes that Sita was taken captive by the demon Ravan, and Lord Ram with the help of the god Hanuman, finally defeated the demon and returned home.

Today, the festival's significance is more personal – it being a time to dispel one's own personal demons and head toward the light. It is largely celebrated all throughout India, with homes being cleaned, candles being lit, feasts being cooked and eaten, and fireworks being lit.

If you plan on visiting during the Diwali festival, be prepared for the traffic (as everyone in India is usually on holiday). And if you're visiting with children, it's best to bring ear plugs or headphones to protect them from the loud fireworks.
9. It's the Ship – Singapore
When: November 13-15, 2019
Dubbed "Asia's largest festival at sea," It's the Ship is a party experience like no other. Imagine a three day, two night extravaganza onboard a luxury cruise liner with non-stop music, crazy pop-up parties, and of course, energetic partygoers.

They've also got an impressive lineup of DJs the likes of Ben Nicky, Darren Styles, Nervo, Alex M.O.R.P.H., Dannic, Eli Brown, and more who spend the entire 3 days onboard with guests. You definitely won't forget this festival for sure – no matter how much you drink! 😉
10. Neon Lights Festival – Singapore
When: November 23-24, 2019
If the US has got Coachella, then the Asian version would probably be Neon Lights. This multi-sensory experience has numerous musical acts, rad art installations, and other soon-to-be announced experiences that all create a one-of-a-kind experience the young at heart will love.

When you've got big names like Halsey, Mumford & Sons, Honne, Mura Masa, Nick Murphy, Aurora, and Badbadnotgood in the lineup, there's no need to book a ticket to California when you've got the prime pickings of the music industry right in the heart of SG.
11. Djakarta Warehouse Project – Indonesia
When: December 13-15, 2019
What started out as a club event in Jakarta's famous Blowfish club back in 2008 has evolved and grown into a mega 3 day festival held annually every December. With the title 'The Best EDM Festival of 2015' under its belt, and an average of 20,000 visitors from over 39 countries, the Djakarta Warehouse Project is certainly up there among the top music festivals in the world.

And of course, we just have to mention the staggering lineup that consists of famous DJs like Calvin Harris, Martin Garrix, Skrillex, Zedd, Jonas Blue, Jeffrey Sutorius (Dash Berlin), Martin Solveig, Oliver Heldens, R3hab, Salvatore Ganacci, and Yellow Claw.
12. EPIZODE – Vietnam
When: December 27,2019 to January 7, 2020
This unique music and art festival is held in Vietnam's largest island, Phu Quoc, and lasts 11 days (yup, you read that right!). And the best (and craziest!) part? The music keeps going 24 hours! The organisers of EPIZODE bring in more than 100 DJs from all over the world to set the vibe at every hour of the day. Beautiful beaches and great live music? Why not?

If you're familiar with Craig Richards, Appollonia, Lilly Palmer, Loco Dice, Mashkov, Lehar, Nicolas Lutz, and wAFF, this festival will be right up your alley. If not, there are tens upon tens more artists and DJs we haven't mentioned yet!
13. Clockenflap – Hong Kong
When: November 22-24, 2019
When you read the About section of Clockenflap, here's what you'll find: "Quite frankly, Clockenflap defies definition. Not even the name makes any sense (just try looking it up). It's absurd. At its sprightly core, Clockenflap is all about people – at their individual and collective, shared best. It is about music at its most inspirational. Art at its most accessible."

With similar lineup to that of Neon Lights in Singapore, you can take your pick and choose where to go. As they continue to say, "Come with openness and imagination. You shall be rewarded."
14. Big Mountain Music Festival – Thailand
When: December 7-8, 2019
One of the biggest music festivals in Thailand, the Big Mountain Music Festival boasts a lineup filled with local talent such as Younggu, Nicecnx, Og-anic, Dreamhigh, Yented, 831, Yellow Fang, Penguin Villa, and so much more. Known as much for the many food stalls dotting the The Ocean Khao Yai as for its musical lineup, this event is has a huge draw for locals and visitors alike.
Have you marked any of these on your calendar yet? Let us know if you've been to any or plan to go to any of these on the comments down below — we'd love to hear about your experience! If we missed anything, we're open to adding to this list as well!
Featured Image: @worldwide_travel_club