Nestled off the coast of Central Vietnam, the Cham Islands are a cluster of eight islands known for their unique flora and fauna. Blogger and travel writer Rose Munday persuades you to pack your bags and go…
A favourite with Vietnamese and Western holidaymakers, the Cham Islands are ranked as one of the top spots in the Quang Nam region. They're the perfect escape for those feeling the effects of Vietnam's fast paced and hectic cities… If you've recently spent time in Hanoi or Saigon, you can likely relate!
Although basking on the beach is probably on your agenda, there's more to do in the Cham Islands than you might think. Curious? Let's get stuck in…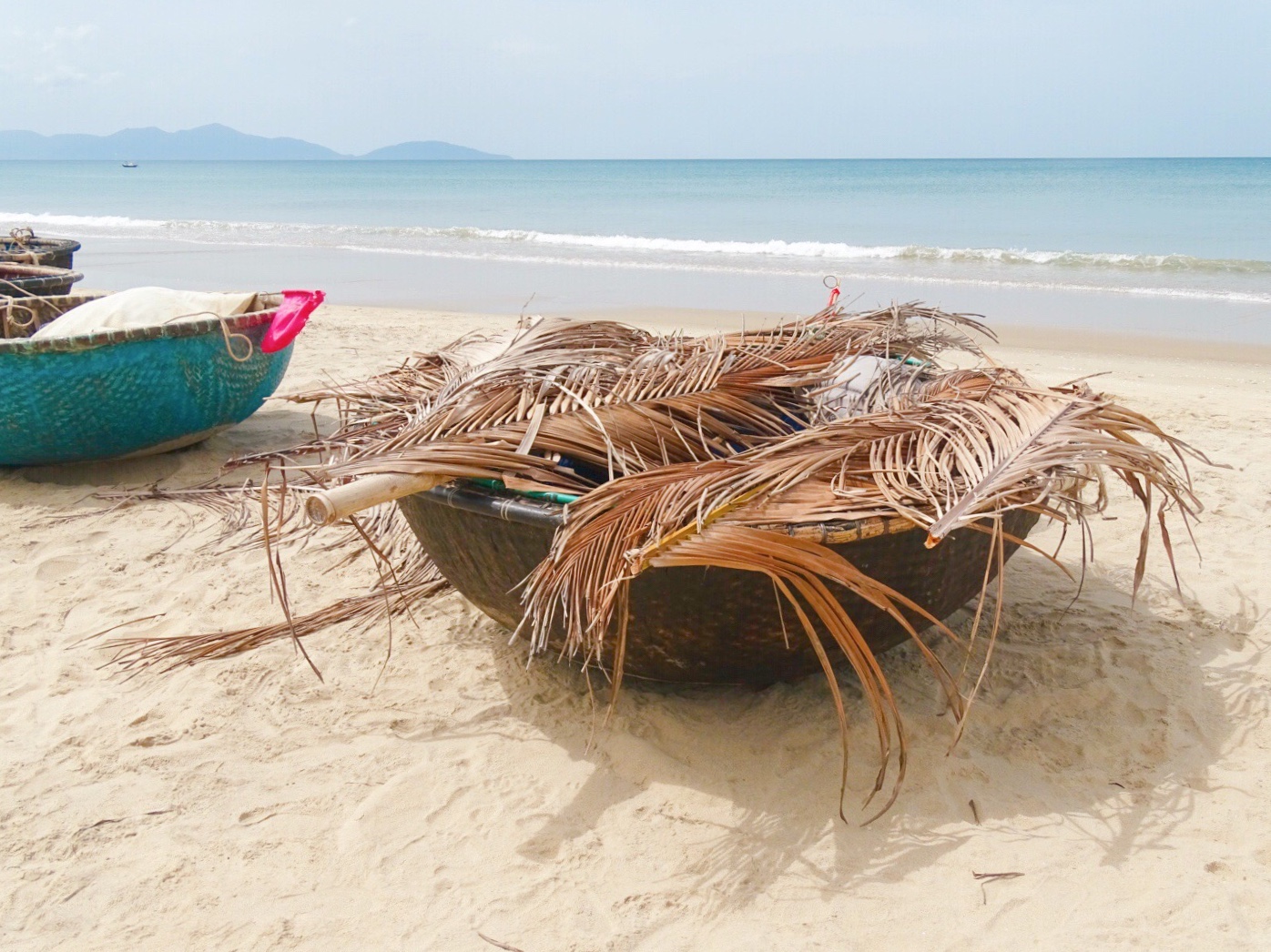 First – where are the Cham Islands?
You'll find the peaceful island cluster directly across from UNESCO Heritage City, Hoi An. This is the best place to visit the Cham Islands from, as local boats run daily from Cua Dai Pier. Visit independently or take a day tour if you'd rather someone else do the hard work 😂
Cham Islands intro
Take a look at a map and you'll see that Hon Lao is by far the biggest Cham Island. You might be surprised to know that the Cham Islands aren't just for holidaymakers: there are 2,400 people who call the island home.
The island's largest settlement is Bai Lang where livelihoods are made through fishing, farming and trading natural goods. The locals co-inhabit peacefully with the island's wildlife, making the islands an ideal spot to soak up the culture.
So aside from their convenient location and those dreamy shots you've seen on Instagram, why should the Cham Islands be on your radar? Let's dive into our 5 reasons to ditch city life in favour of #beachgoals…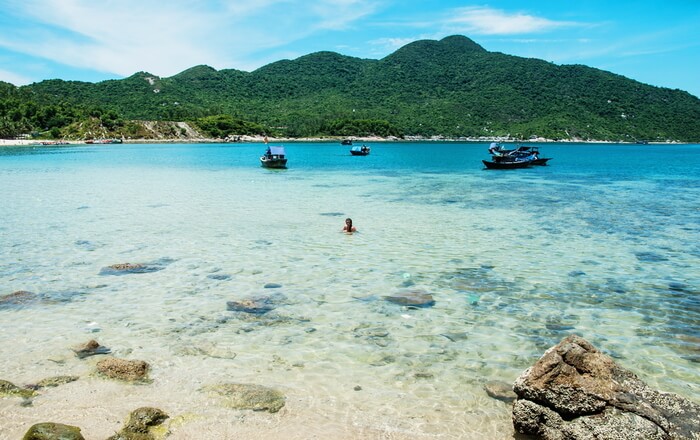 1. There's a spot for everyone
Rather than just one or two spots for enjoying island life, there are numerous beaches across the Cham cluster, each known for different reasons. Han Lao, otherwise known as Monkey Island, has plenty of things to do… and just as many furry friends! When you're not protecting your belongings from your cheeky new companions, you can swim, snorkel, trek and even go overnight camping. Waking up in paradise sounds good to us!
2. A world of biodiversity
The breathtaking Cham Islands aren't just about aesthetics. They sit within Lao Cham Marine Park which is a recognised UNESCO zone due to its rare sea life. Boasting 410 acres of coral and over 135 animal species, it's truly an underwater wonderland. A trip can involve learning about the sea creatures and seeing them up-close. Many of the wildlife living there are listed in the Red Book of Endangered Species.
3. Underwater activities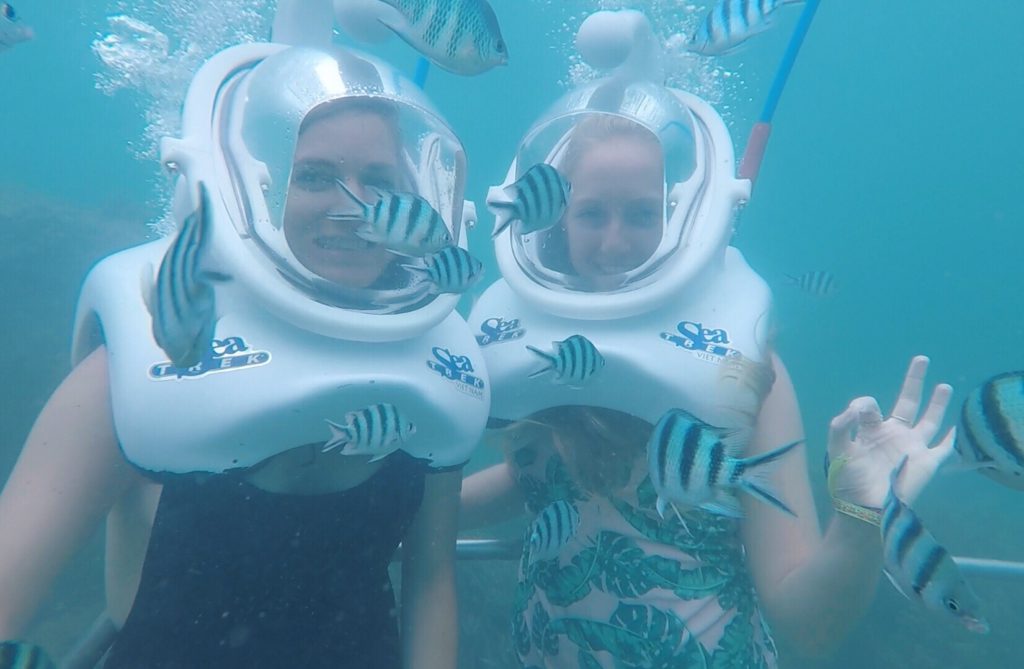 If you love diving and snorkelling, you need to add a Cham Island snorkelling activity to your bucket list. As a country with more bustling urban hubs than serene beaches, Vietnam is often overlooked as a dive destination. That's not the case in the Cham Islands thanks to the abundant underwater activities on offer. Dive trips run daily from Hoi An and Da Nang.
If you're not dive-certified, no problem – there are a few options perfect for beginners. Snorkelling is a great way to see the living, breathing coral, much of which is easily spotted from the surface. Another popular option in the Cham Islands is sea trekking. If you've never heard of this before, you're in for a weird and wonderful new experience! Don a helmet attached to oxygen and climb a ladder to the ocean bed. Walk around to your heart's content, taking in the colourful sea life around you.
Remember to keep your hands to yourself and refrain from touching any sea life!
4. Beaches galore 🏖
Hon Lao may be just one island but it has beaches at every turn. You might want to explore some of the following:
Bai Ong – the beach that boat tours visit is often busy and bustling, but it's a fantastic place to sunbathe and swim. You can even do it for the 'gram and hire a unicorn floatie.
Bai Bac – take a trip to Monkey Island's northern beach. Here you can escape the crowds and discover gorgeous natural caves, many of which are totally abandoned.
Bai Xep – for another secluded spot, journey over to this peaceful beach. You'll have just a few shelters, some bobbing boats and a scattering of palm trees for company.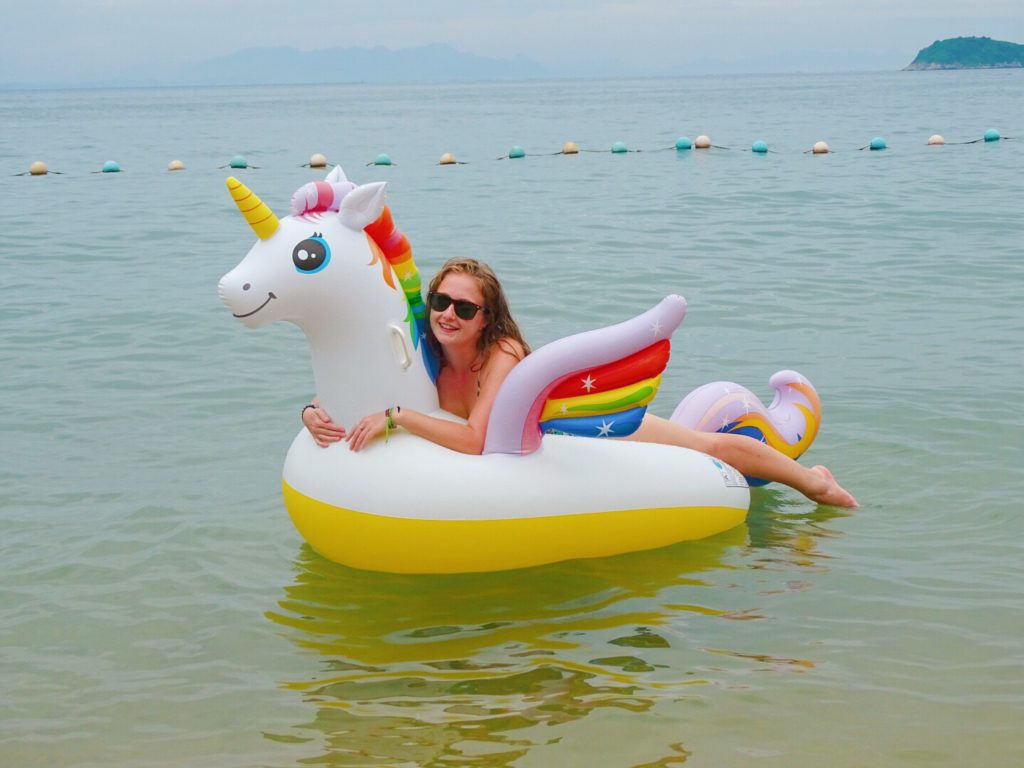 5. The ultimate overnight getaway
It's common to visit the Cham Islands as a day excursion, but you'd be missing a trick because spending a night on Hon Lao allows you to watch sunset and sunrise, beer in hand. Who would want to miss that? There are a few gorgeous boutique resorts on the largest Cham Island that flashpackers will love.
Keen for an adventure? Camping on Hon Lao island is one of the best ways to escape city life and soak up the natural surroundings of the Cham Islands. Pitch up on an abandoned beach and admire sunset from a hammock. You can wake up and dive straight into the ocean!
Remember to take all your litter home with you!
Getting to the Cham Islands
Take a taxi to Hoi An's Cua Dai Pier where you can board a local wooden boat at 10am. It returns at 11.30am so it's a good option if you plan to stay a night on the island. Alternatively, you can book a Cham Island tour with us. Snorkelling and dive trips are also readily available and will return before the end of the day.
When's the best time to visit the Cham Islands?
The ultimate time to visit is March to August as the monsoon season affects them from November onwards. During this season, they're sometimes closed to tourists – so remember to do your research before visiting.
We hope we've persuaded you to visit the Cham Islands already! They're the perfect paradise location while travelling Southeast Asia. Get them on your Vietnam bucket list before everyone else does…
Want to check out the Cham Islands for yourself? Check out the Private Cham Island Day Trip offered by TripGuru.
Heading to Vietnam any time soon? Check out Rose's ultimate guide to Hoi An here!
Have you been to any of these spots? Do you have any more to add? Leave them in the comments below!