When visiting Northern Thailand, there are a few stops you'd be mad to miss. Chiang Mai is up there as one of Thailand's most popular destinations – for good reason. Once you've slurped down a few steaming bowls of khao soi noodles from a charming garden cafe, you'll be well and truly sold. Home to countless temples, serene forest hikes, and a foodie scene to rival Bangkok's, we challenge you to not fall in love with this pretty city.
However, there's one up-and-coming destination that's giving Chiang Mai a run for its money: the city of Chiang Rai. Their names may have the same ring, but that's where the similarities end. In Chiang Rai, the temples are newer, bolder, and (yes, we'll say it), more 'grammable! Countless visitors make the pilgrimage from Chiang Mai to Chiang Rai in order to snap the White Temple and Blue Temple, two of Chiang Rai's best-loved spots. Want to visit it for yourself? Let us fill you in…
Where is Chiang Rai?
Chiang Rai lies three hours east (190km) from Chiang Mai. This once-sleepy settlement began to receive tourism after the impressive White Temple was erected in 1997 by a local Thai artist. With no other large cities around, Chiang Rai is the perfect base to explore the surrounding countryside.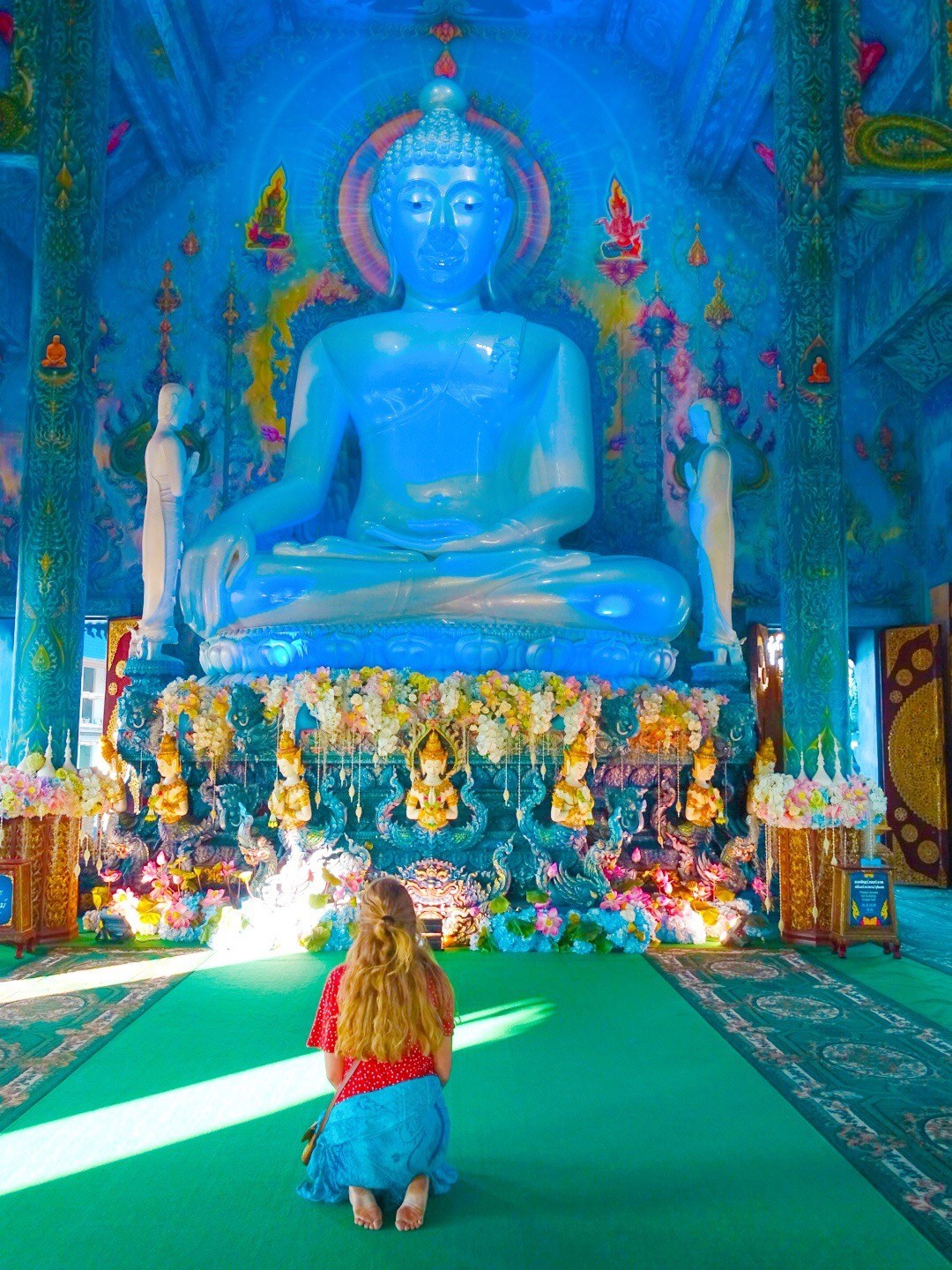 How do I get to the Chiang Mai bus station?
The Arcade Bus Station isn't in the centre of Chiang Mai, but don't fret: there are a few easy ways to reach it without lugging your backpack around for too long. Order a Grab taxi (ride sharing service) and you'll pay around THB90 baht.

If you're traveling solo, the more cost-effective option is to hail a red songthaew. If you're new to this, don't be shy: simply wave one down anywhere in Chiang Mai and pay between THB30 and THB50 on arrival (the driver will tell you the exact amount, but it doesn't hurt to check before you get in). Riding a songthaew is a must for your Chiang Mai bucket list and much more fun than taking a regular taxi!
Where do I arrive in Chiang Rai?
The central bus station in Chiang Rai is right beside the Night Bazaar. Don't get off at the first station on the outskirts because you'll need to catch a taxi into town. Wait until the central station and you'll be within walking distance from most city-centre hotels and hostels. If in doubt, set the Night Bazaar into Google Maps to check that you're arriving in the right place.


Should I book my bus in advance?
If you know your travel plans a few days in advance, it's best to book your Chiang Mai to Chiang Rai bus. Often you can turn up having not booked, but during weekends and public holidays, journeys are likely to fill up. So rather than end up disappointed, use a ticket booking website like 12goAsia to guarantee your seat. Journeys cost between THB200 and THB300, which is the same price you'll pay at the ticket counter. Once booked, print your ticket and arrive at the station 15 minutes before your departure time.
Do I need to print my ticket or does a digital copy on my phone work?
In this case, it's always better to be safe than sorry. Once you've paid for your ticket, save it as a PDF and ask the hotel staff to print it. If you're staying in an area without a nearby printer available, consider going to an internet shop in a mall to book your ticket. Or, for a less stressful alternative, go to the nearest travel agency and ask them to help print out your ticket.
Can I self-drive from Chiang Mai to Chiang Rai?
Yes, it's possible to hire a car and drive along Highway 118 then Highway 1. However, don't consider this unless you're a confident driver with an international license. Taking the bus is far cheaper, plus it's easy to hire a scooter when you arrive in Chiang Rai. Driving between Chiang Mai and Chiang Rai is possible, but not our recommended option.


Do I really need an international license to drive in Thailand?
The short answer: No. Most rental companies will ask for your regular driver's license, passport (for identification) and cash/credit card.
Can I drive a scooter or motorbike from Chiang Mai to Chiang Rai?
We recommend this only for experienced riders, as the road to Chiang Rai is hilly, steep, and winding. Bigger bikes (350cc) are also better as they will have an easier time getting up the precipitous roads. You can take Highway 118, then Highway 1, but practice caution in fast-moving traffic.
What should I do whilst in Chiang Rai?
You won't be short of entertainment when visiting Chiang Rai. There are a few impressive temples to explore such as the White Temple and the Blue Temple, plus some countryside excursions, tasty local food, and even a cat cafe! Check out this travel blog from Where Goes Rose?


So what do you think? Not that hard to get to these two beautiful cities, right? Have you made the trip from Chiang Mai to Chiang Rai yet? Let me know in the comments below!
Featured image from www.findingjules.com