Maybe it's the glorious beaches, cultural temples, inimitable food scene, or the relaxing atmosphere… Bali is just one of those places that have an eternal charm.
But whatever it is, there's always something to do for anyone and everyone. Whether beach bum, thrill-seeker, history geek, foodie, or soul-seeker, the "Island of the Gods" is every traveler's dream.
So if you're looking for a list of stuff to do in this island paradise, we've got you covered! Check out some 15 must-dos (sorry, I couldn't choose just 10!) while in the area: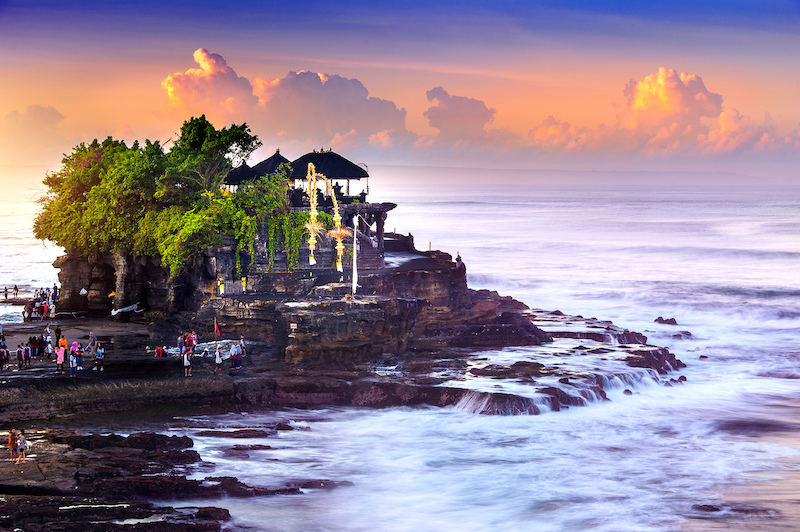 1. Snap a photo by some DP-worthy temples
I think what makes Bali truly stand out are the many temples scattered around the island. Some famous ones include the Tanah Lot Temple, the Uluwatu Temple, the Besakih Temple, the Tirta Empul Temple, the Pura Lempuyang Temple, and the Pura Ulun Danu Bratan Temple. Not only do these places serve as a gorgeous background for your next profile pic, they're also a chance for you to learn about the history and culture of Indonesia.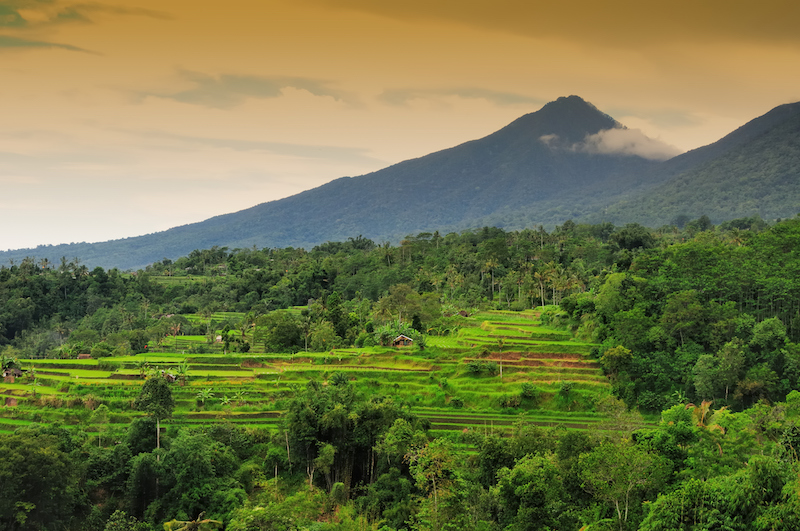 2. Explore the scenic rice terraces
If you're looking for a uniquely Asian backdrop, then the lush greenery of the Balinese rice terraces will work quite nicely. You can visit the Tegalalang Rice Terraces and the Jatiluwih Rice Terraces, and be awed by the beauty of nature as well as the hard work that goes into the plantation, production, and maintenance of the rice terraces.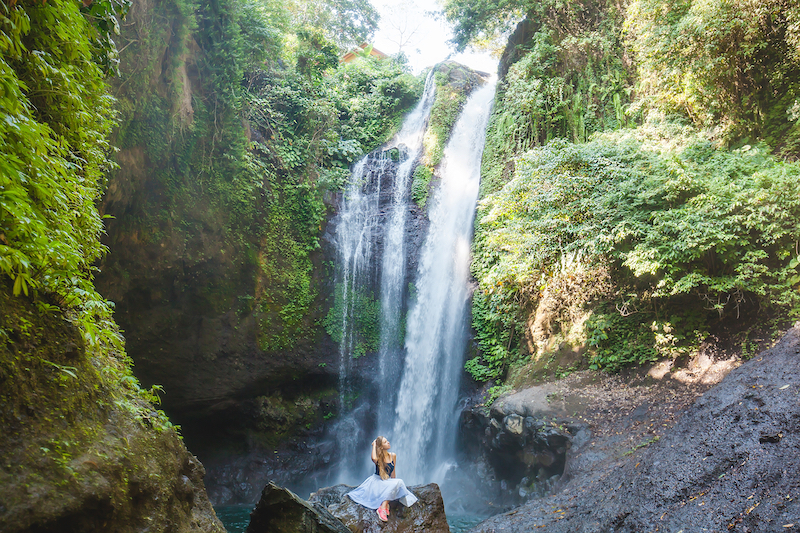 3. Take a dip in a waterfall
One way to beat the Bali heat is by traversing through the jungle, glimpsing some of the majestic cliff faces of the island along the way, and refreshing yourself in one of the many picture-perfect waterfalls! Some popular waterfalls include the Sekumpul Waterfall, the Gitgit Waterfall, the Aling-Aling Waterfall, and the Tegenungan Waterfall.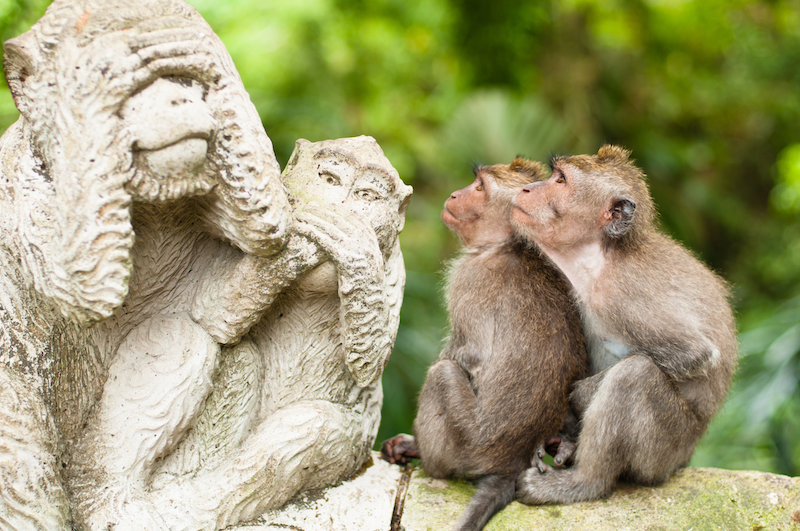 4. Visit some primates in the Ubud Monkey Forest
This one's for the animal lovers! With more than 700 gray long-tailed monkeys and even some local deer, this sanctuary boasts 12.5 hectares of natural forest where you can observe the animals, take a walk and admire the trees and vegetation, and of course, take photos of your beautiful surroundings in the Ubud Monkey Forest.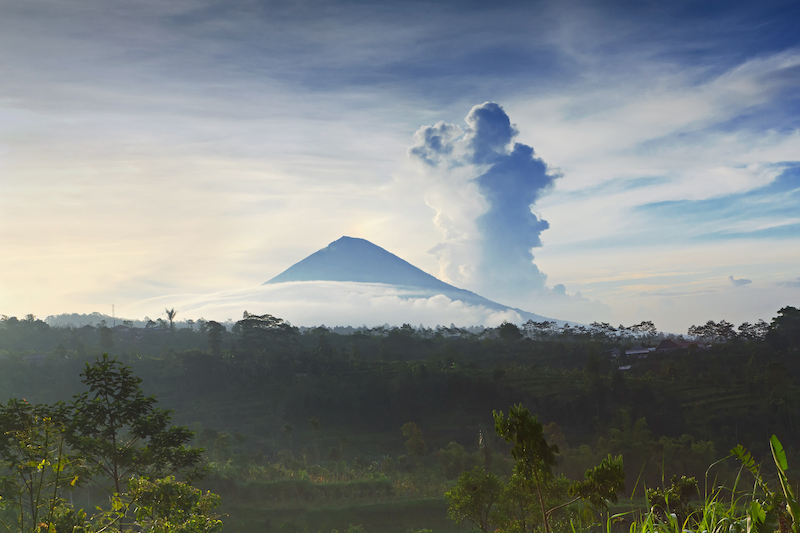 5. Catch the sunrise from Mount Batur
While sunrises are always magical, if you watch it from the top of a mountain with exceptional views of the landscape beneath you, there's just that extra little bit of wonder to it. Mount Batur is a favorite among tourists and hikers, and while the hike may take a bit of effort, the views are certainly worth it.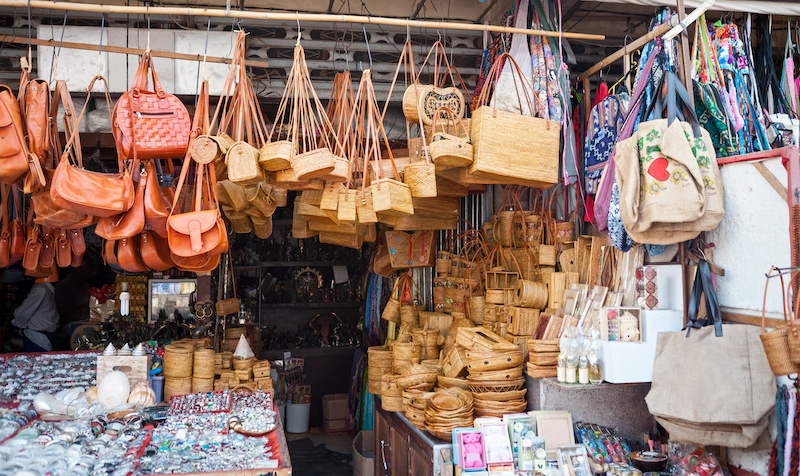 6. Go souvenir shopping in the Ubud Art Market
If you're looking for local items to bring back to family and friends, then the lovely wares at the Ubud Art Market pretty much hit the jackpot. You can find everything from scarves, shirts, bags, and hats, to statues, paintings, and other hand-crafted curios here.
7. Try white water rafting
Looking for adventure? Then try some white water rafting on the Telaga Waja River or the Ayung River. With sizeable waves, considerable drops, and exhilarating rapids, Bali has rafting options for beginners who want a milder rafting course, and those who want a tougher more thrilling course.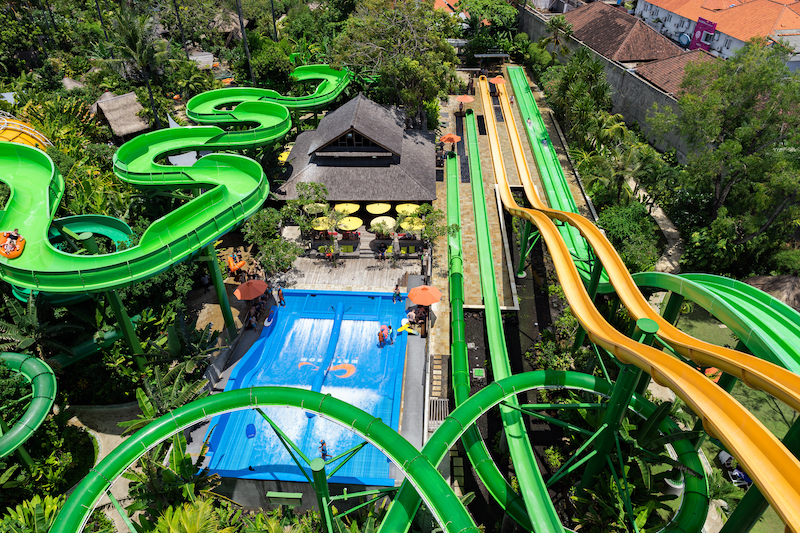 8. Jump on a slide at the Waterbom
Here's another fun activity you can do with the whole family! Waterbom is Bali's premier water park, with plenty of slides, rides, and other activities to keep everyone occupied. Some popular rides include the Smashdown 2.0, the Double Twist, the Pipeline, and the Flow Rider.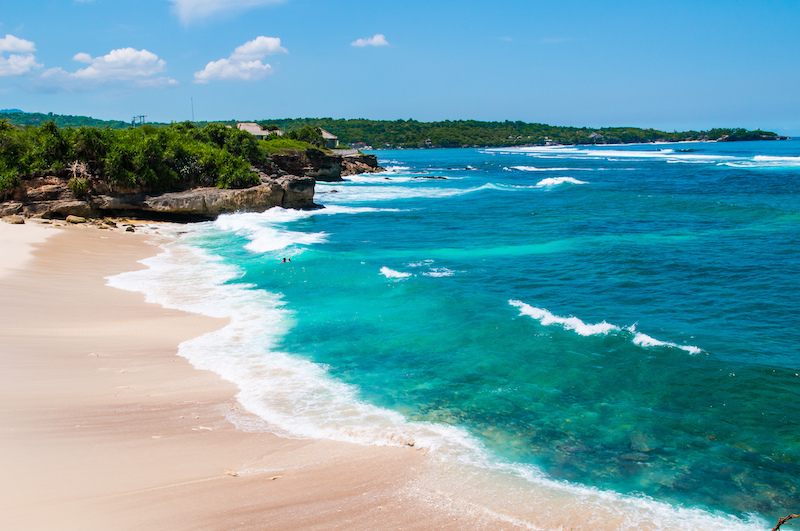 9. Chill on the beach
Bali is known for its beautiful coast, from pristine shorelines to clear waters perfect for snorkeling, diving, trying out a few water sports, or simply chilling and relaxing. You can hit up Nusa Penida, Kuta, Seminyak, Jimbaran, Karma, Sanur, Padang Padang, Pasir Putih, Balangan, and Bingin beaches to name a few (yes, a few!).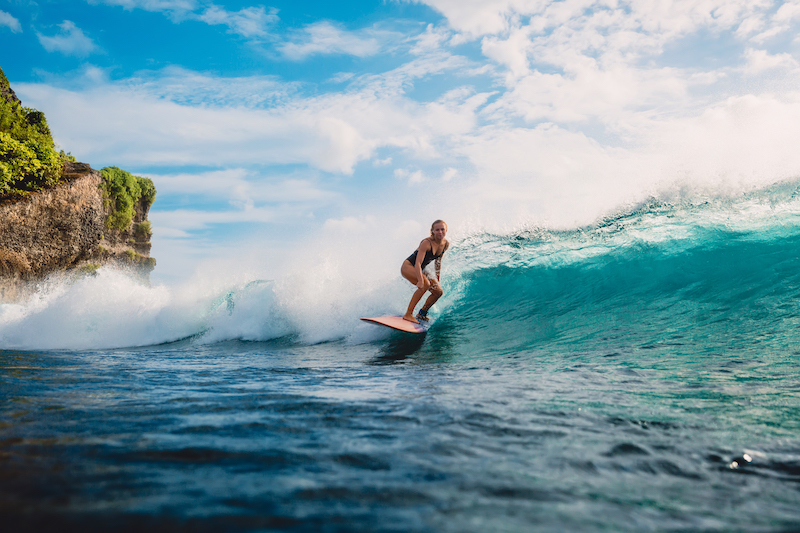 10. Ride the waves
Speaking of beaches, one of Bali's foremost selling points are its challenging waves that lure both advanced and beginner surfers alike. You can check out surfing spots like Padang Padang, Keramas, Uluwatu, Canggu, Balangan, Bingin, Impossibles, and Green Bowl.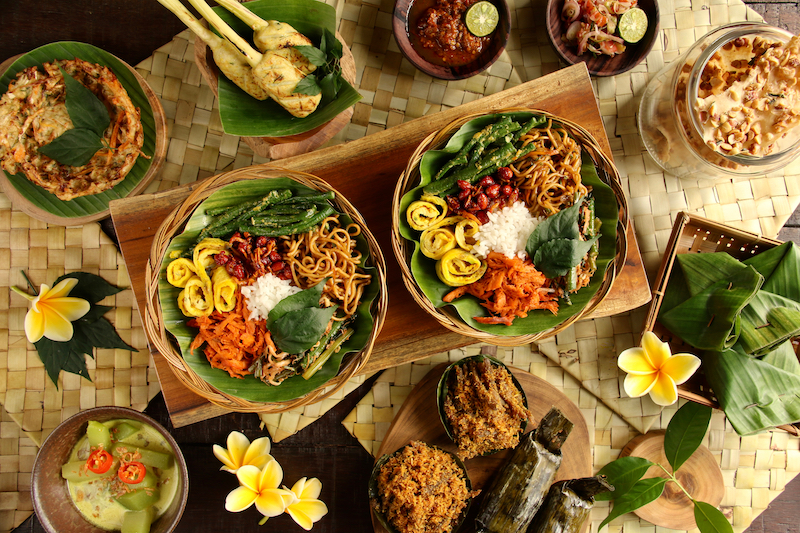 11. Eat your heart out
Trust me when I say that you can spend a month in Bali and still not run out of good places to eat. From breakfast places with delicious smoothie bowls, and cafes to satisfy your coffee cravings to traditional Balinese eateries and sophisticated fine dining restaurants, you will almost always be able to find some good food wherever you turn. So if you'd rather spend your days eating to your hearts' content, go right ahead! (And hey, if you're staying in Uluwawtu, here's a list of the top things to eat, see, and do!)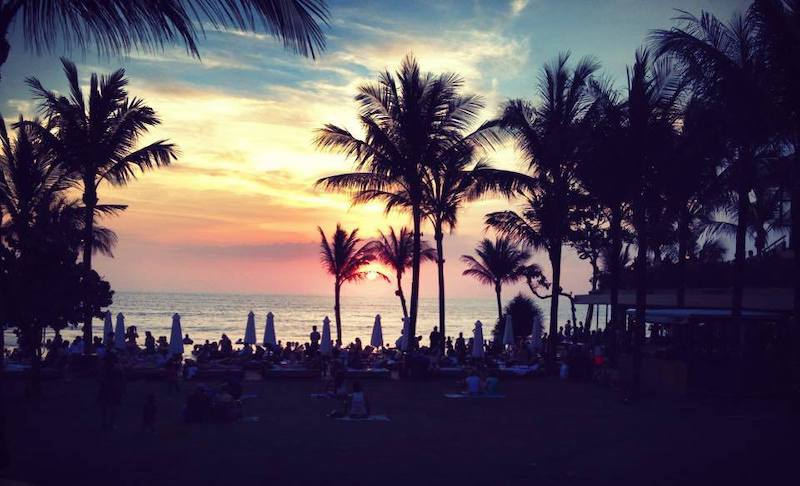 12. Go beach club hopping
When it comes to nightlife, Bali is one island that definitely does not disappoint. Littered with beach clubs that entertain dancing, drinking, swimming, and more, you can hop from one beach club to another night after night. Some favorites in the night scene are Potato Head, Ku De Ta, Finn's Beach Club, The Lawn, Sundays Beach Club, Tropicola, La Favela, and more.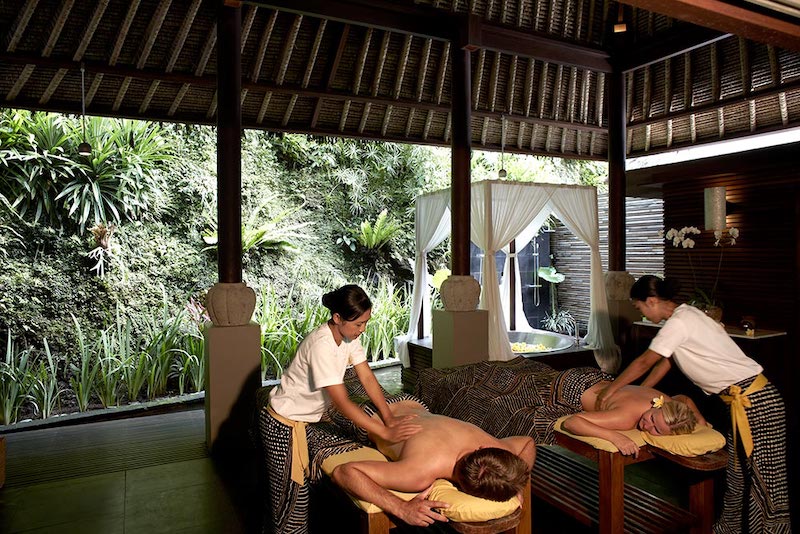 13. Get a relaxing massage
After a day or a week of various activities, treat yourself to a relaxing pamper session in one of Bali's many spas or massage places. Get a luxurious body scrub, a chocolate body mask, a 1.5 hour Balinese massage, a foot reflexology session, an herbal bath, or why not a combination of two or more treatments? You're on a vacay after all, right?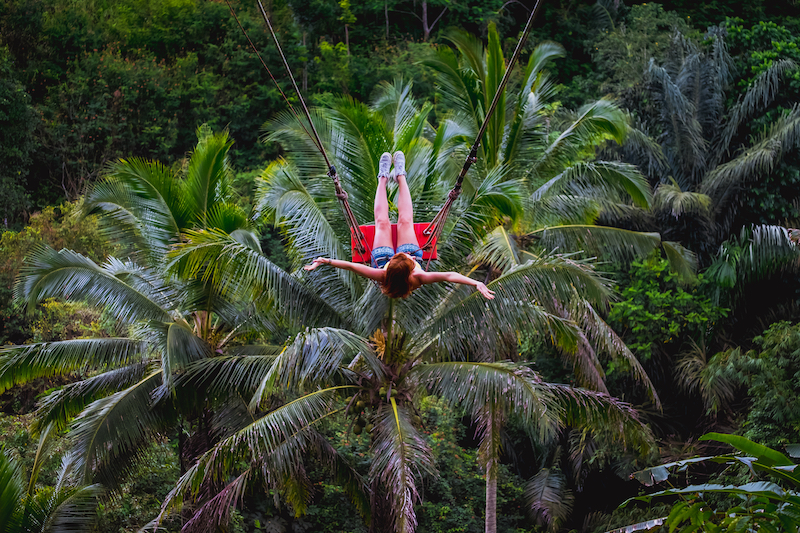 14. Soar above the treetops in the Bali Swing
Fly above the treetops of the lush Ubud jungle on one of Bali's famous swings. You know the photos on Facebook and Instagram of people swinging high up on trees? Yup, you know what I'm talking about. Well, don't miss out on this must-do activity, and don't forget to bring your phone and/or camera and a buddy to take your photo!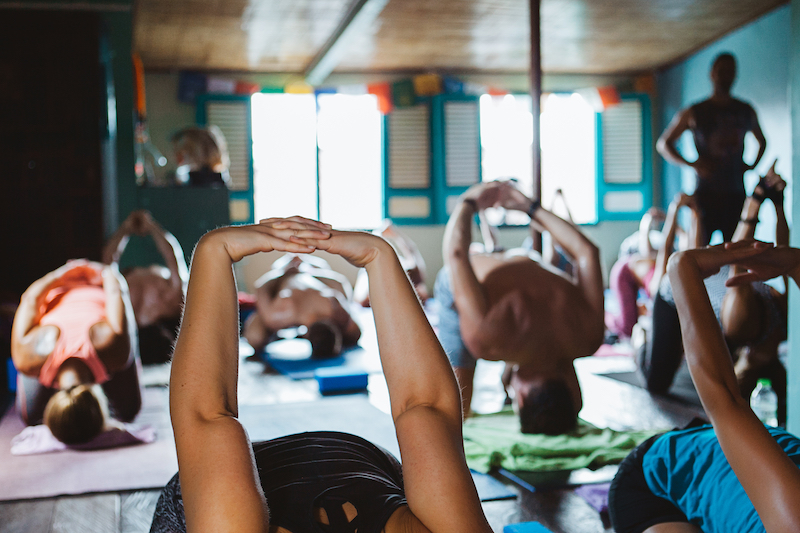 15. Take a class
A traditional Balinese cooking class, a peaceful yoga class, or even an advanced diving course—the choice is yours. There's no better place to learn than from the friendly professionals in the area, and it's always a bonus if you get to learn a little something (or two) while having fun!
Have you tried any of these? Which must-do activities are on your list? Leave a comment down below and share your experiences with us!