Bali is one of Indonesia's most diverse islands thanks to its abundant natural beauty, distinctive culture, charming towns and unique architecture.
The friendly Balinese are some of the most welcoming locals around, plus Indonesian food is moreish and well-suited to vegetarians and vegans. Rendang curry and nasi goreng were recently voted the world's 1st and 2nd most delicious dishes by CNN. Do you need any more reasons to go ahead and book your next flight to Bali?
Well, there's another factor that may attract bloggers, photographers and Instagrammers: Bali is the most Instagrammed place in Southeast Asia, aside from Angkor Wat.
So, if you're wondering where to go in Bali for the most Instagrammable spots, let us help you out! (Or you could join a Bali Instagram Tour where the driver doubles as your personal photographer?!)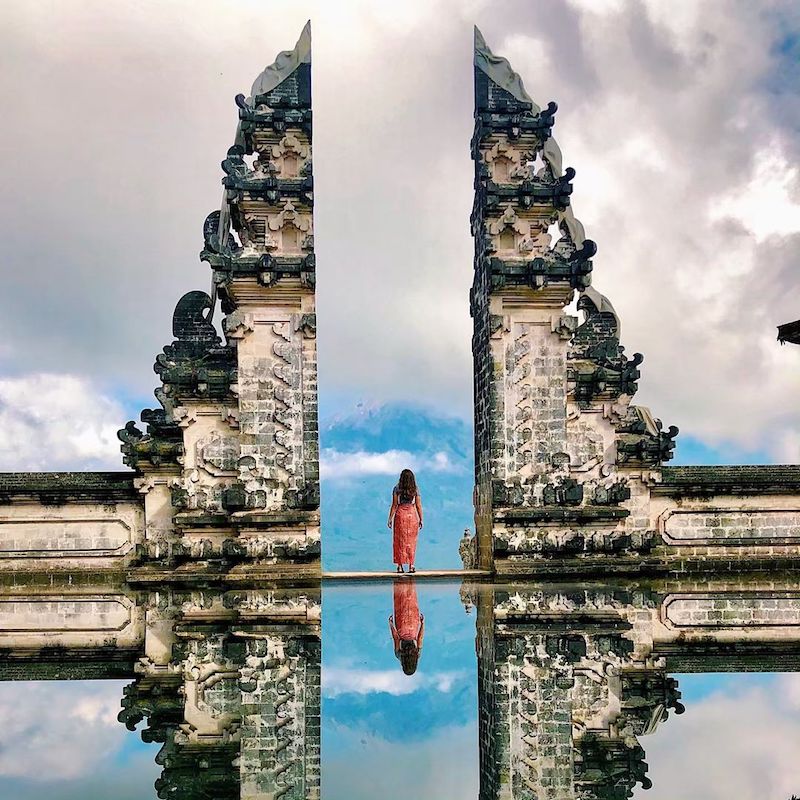 There are no prizes for guessing that this famous Bali gate is probably the most famous Instagrammable spot in Bali. Gates are architecturally important in Balinese design, built as the entrance to temple sites. There are a grand total of 7 temples at Lempuyang so it only makes sense that there's an impressive gate to welcome visitors. What makes this sight particularly Instagrammable is the unobscured view of Mount Agung on a clear day.
Pro tip: Arrive super early or wait in a very long queue. A talented team of local photographers use a mirror to give the impression of a peaceful pool of water between the camera and The Gates of Heaven. Whether you call it photo trickery or commendable creativity, your photos in this most iconic of Instagrammable spots in Bali will be undeniably impressive!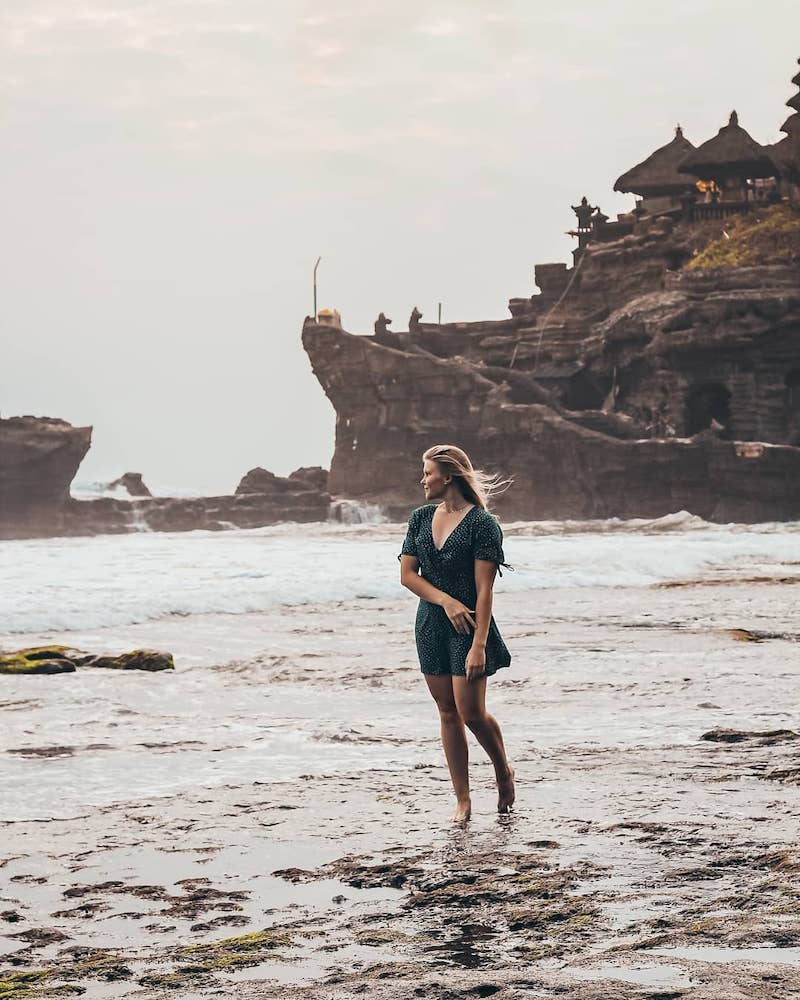 Does it get more Instagrammable than a 16th-century Hindu shrine perched on a giant rock in the ocean? It does when a Bali sunset is taking place behind it!
Tanah Lot is one of the holiest places in Bali, not to mention one of the most beautiful. If you have just one spare evening in Bali, spend it nursing a beer at golden hour from the clifftops. Watch the waves crash in front of peaceful Tanah Lot as you fill your camera roll with golden hour photos to treasure for years.
Carved into the rock face of one of Bali's best-loved temples is an artsy face that some visitors find spooky and others find comedic. However you interpret this guy, there's no doubt that this is one of top Instagrammable spots in Bali. Arrive early to walk through the statue's mouth without standing in line to do so!
Pro tip: Bring a sarong or cover-up for your legs and shoulders. If you forget, you can borrow one at the door, but there's no promising it will go with the rest of your outfit.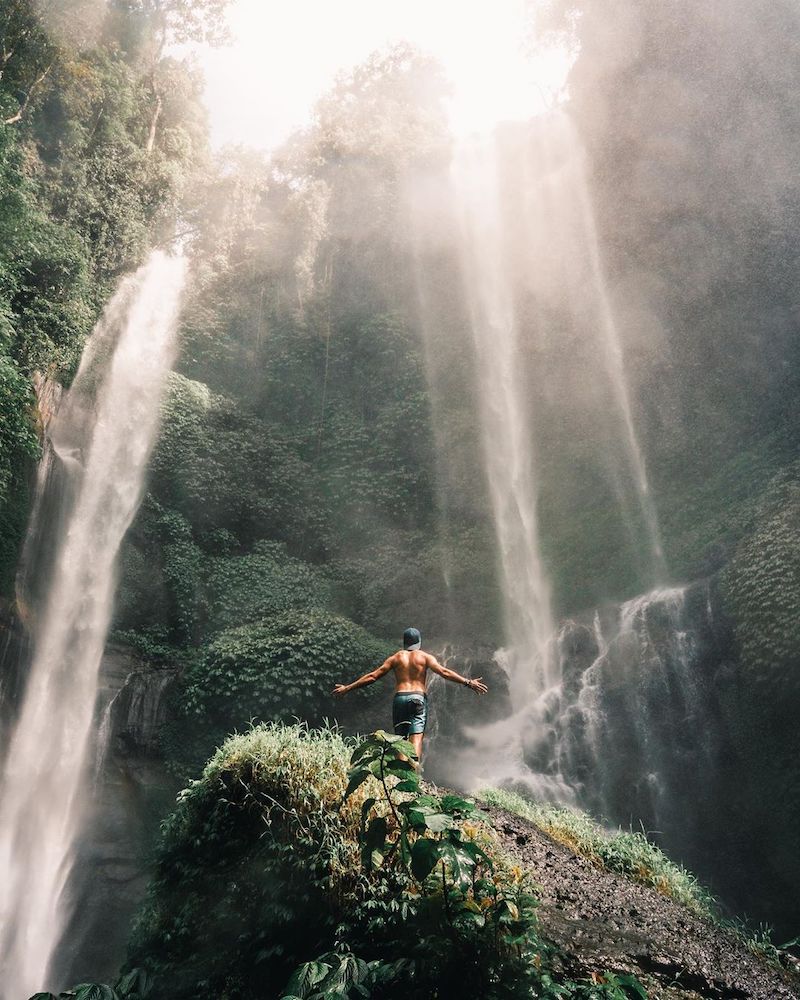 Of the many Bali waterfalls, Sekumpul is often voted the most beautiful. With such stiff competition, you can bet it's spectacular! Nestled deep in the jungle, not one but seven cascades fill up a natural rock pool that's perfect for swimming. These breathtaking falls boast 80m drops, creating an ethereal mist as they thunder down the craggy rockface and meet with the icy-cold water below.
Sekumpul may be a 2.5 hour drive from Ubud or Canggu, but we can assure you the ride is well worth it. The lack of other travelers around makes for an unforgettable adventure. Pack your waterproof camera and you'll be a step ahead of the Instagram game.
5. Campuhan Ridge Walk, Ubud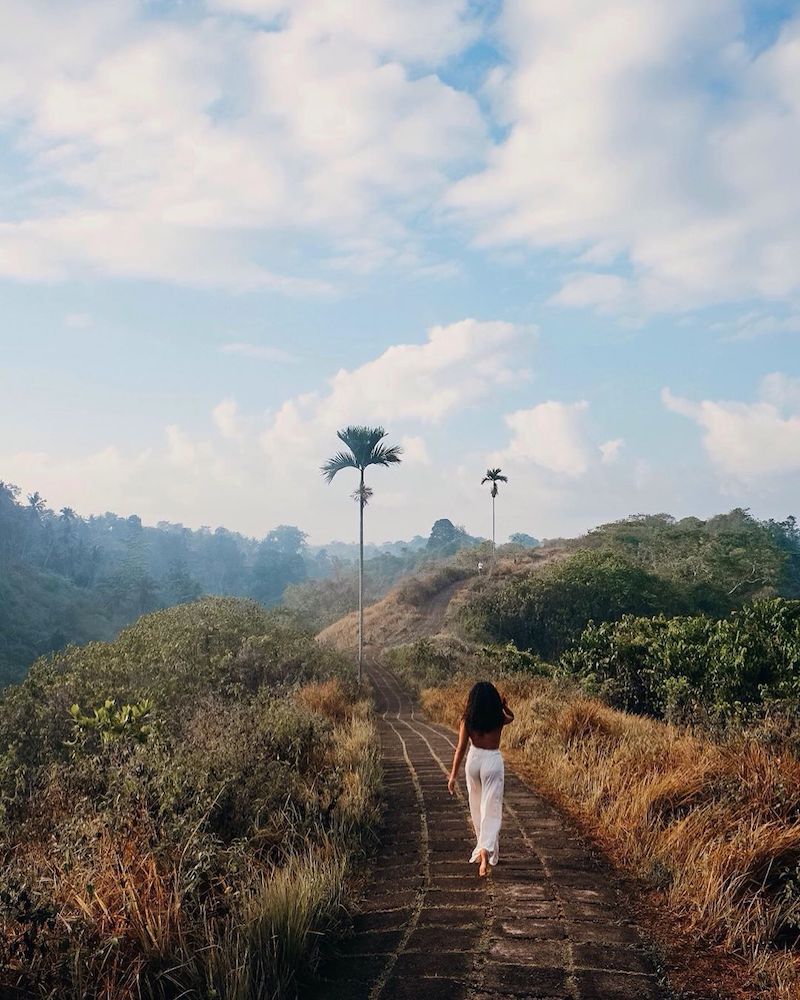 The cobbled path through the Bali rice fields and forests is well-trodden by photographers and Instagrammers. In the early morning, the gentle sunlight across this misty Bali landscape is nothing short of magical.
It's little wonder Ubud is such a pilgrimage site for those in need of rest and relaxation. The Ridge Walk is an easy one, taking less than an hour and not requiring any kit or serious footwear. The one thing you do need? A stylish hat or statement accessories!
Which Instagrammable spot is your favorite? Are there are any other spots that should have made it on the list? Let us know in the comments below!
For more about the beautiful island of Bali, check out our Bali City Guide.
Featured image: @madisoninsta