Picture this: you're in Bali, browsing for evening plans after a full day of tours and shared experiences with fellow travellers or new friends you've met. The sun is setting, and it's time to relax into the night and let loose. Time for some Bali nightlife, right?
Feeling social, wondering where to start in terms of checking out Bali's nightlife scene? Continue reading for our ultimate guide on going out and about in Bali after dark!
South Bali is most popular and is where the pulsing parties are at. Visit the liveliest 'hoods of Kuta, Legian, Seminyak, and Canggu. You can also find some nightlife spots to visit in Jimbaran, Sanur, and Denpasar.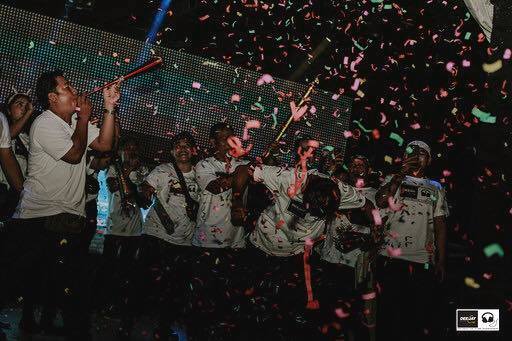 Kuta: Backpacker central
World-famous Kuta has been the most mainstream tourist destination in Bali for decades, and it hosts a crazy, exciting and exhilarating nightlife scene. Go for some shopping in the busy and bustling Kuta Night Market before you get "turnt"!
The best "club clubs" in Bali are in Kuta, and they go all out, featuring international bands and DJs getting you on the dance floor all night (happening from midnight and early into the morning).
VH Bali (Velvet Restaurant & Hypnotized Club): A sweet spot on the Kuta Beachwalk where you can meet up for sunset drinks at the restaurant, and dance to the laser lights, electro, and dubstep beats with with the clubbing crowd.
Hard Rock Café: Come for classic American food, stay for the rock n' roll, hip-hop, new wave, electro, and top 40 hits.
Pyramid Club: Sphinx-head, fire-towers, an elaborately set-up lair, perfect for dancing and lounging.
Stark Beer Garden features Bali-brewed beer on tap.
Deejay Club is the go-to place for music after midnight. EDM, techno, progressive house, punk, psychedelic trance… with a tagline of "Goodbyes Are Not Forever. Goodbyes Are Not The End. They Simply Mean We'll Miss You, Until We Meet Again," the list of music to dance to is as endless as the night is.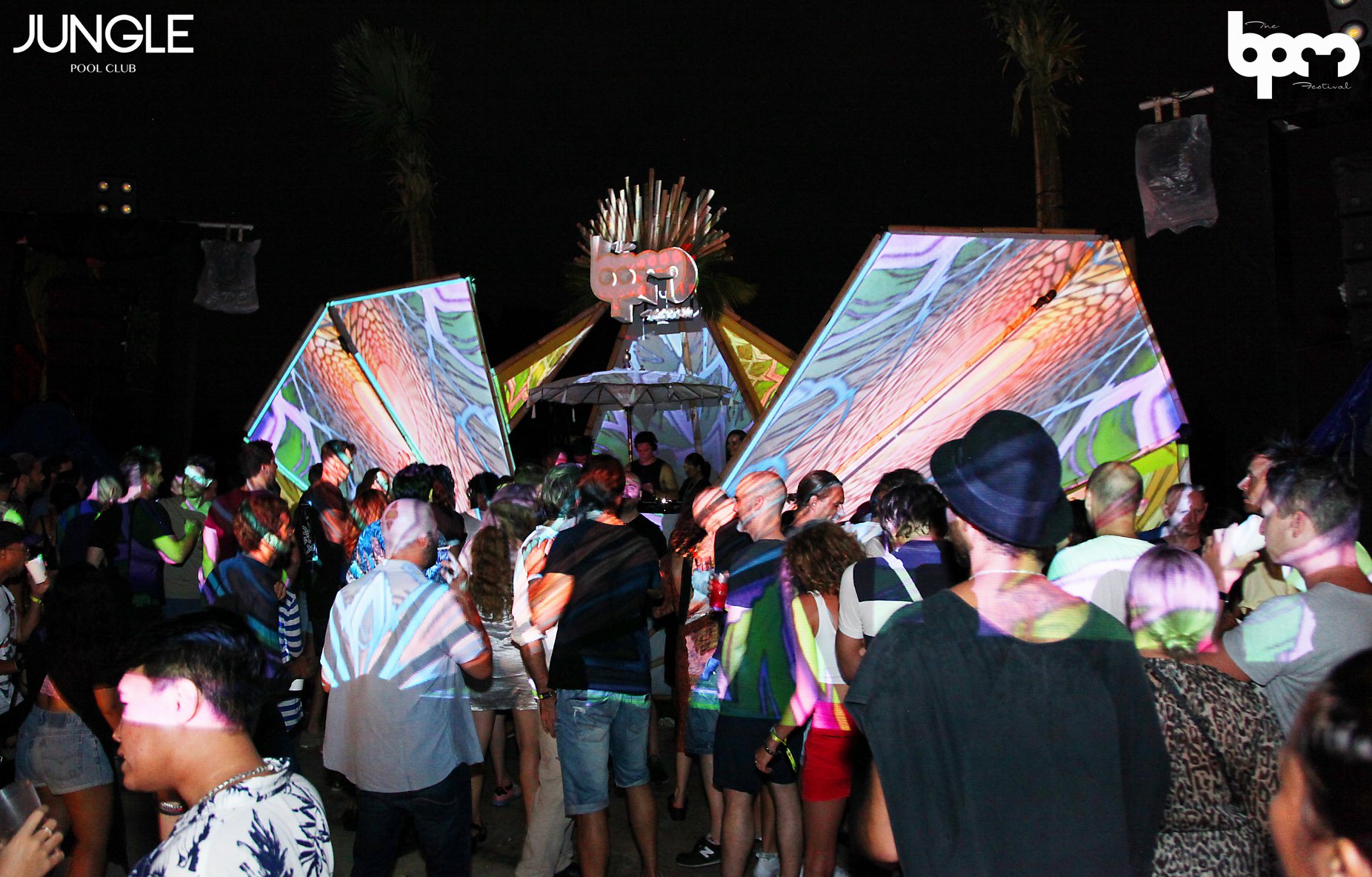 Legian: Midway game
So much can be seen in this small suburban area north of Kuta, especially at night. Go to some of the best bars in Bali while you're around!
Engine Room opens early at 4:00pm, make it one of the first stops on your club-hopping adventure.
Sky Garden Rooftop Lounge: All-you-can-eat-buffets, free-flowing beers, and beats on a rooftop bar. Spend all night in this neon-lit building, and dance 'til dawn at the Sky Dome super-club with its 3,000-capacity. Open 6:00pm 'til late, at the 61 Legian Entertainment Complex.
Bounty Discotheque is a legendary after-dark destination in Bali. Get there early as it opens at 8:00pm and play pool or sing karaoke. You can also stay 'til 4:00am for the wet n' wild foam parties, fashion shows, dancers, and DJs on deck… get onboard for an indulgent night cruise of dancing and drinking on the "bounty ship."
Jungle is the only rice-field pool club in Bali. This quiet restaurant on other days becomes a hip and happening spot on Friday nights, beckoning you to "Aim for the Bushes."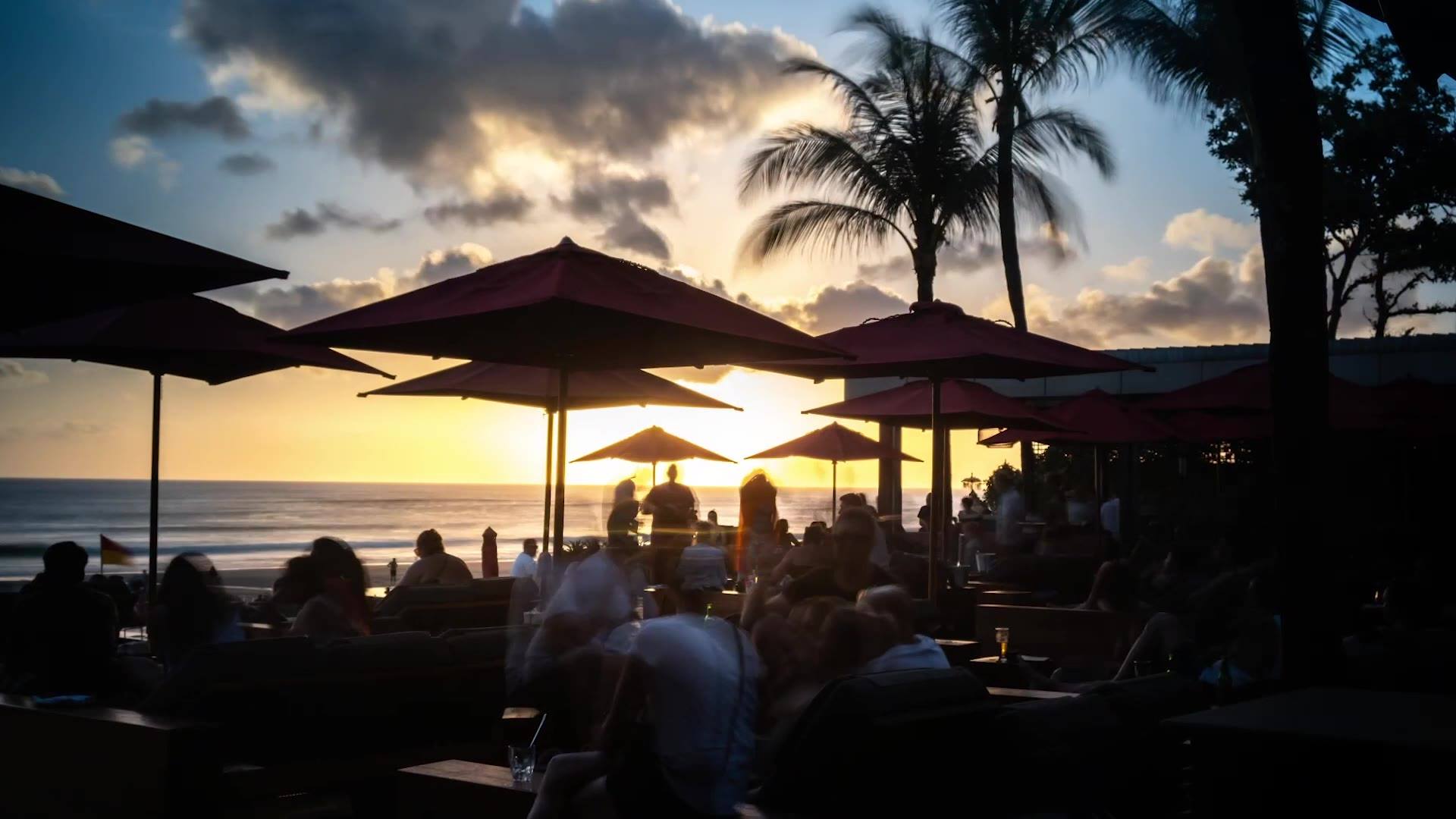 Stylish Seminyak
Seminyak is Kuta's chic, sophisticated, and stylish sister with upscale beach resorts, classy restaurants, and luxury lounges.

Ku De Ta is the inspiration to the beach-club / bar / restaurant venues on the island, famous for its soulful music, the perfect soundtrack for panoramic sunset views.
Double Six is an institution, attracting huge dance crowds out on the beachfront.
Potato Head Beach Club is a hotspot to see and be seen. Find yourself somewhere in their four restaurants, four bars, in the infinity pool or simply chilling out and dancing on the lawn under the coliseum-shaped structure.
The powers of Mint, Koh, and Electrik have joined together in Red Ruby Club Bali. Check it out for a late night of live electronic music and dancing to deep house and techno.
The V in OPIVM stands for VIP, where you can party in luxury within the two floors of this superclub.
Mirror Bali Lounge is a must-see party venue with its unique gothic and glittery interiors, candy-colored mosaic glass windows and high ceilings, complete with dazzling neon lights.
If you dare… experience Halloween year-round at the quirky Frankenstein's Laboratory, with their "Freak Show," "Dancing Dead Cabaret" and creative monster-themed cocktails.
Stay sophisticated in this not-so-secret but secluded spot, Zibiru. Listen to jazz and soul music while savouring a sumptuous gourmet and artisanal Italian dinner on the restaurant's romantic rooftop.
La Favela: A fun night out in a Brazilian inspired venue with both indoor and outdoor areas, up to three different rooms and even fountains on the ground floor!
Motel Mexicola: Tacos, tostadas, quesadillas, nachos, burritos, and other legit Mexican tapas (and of course, drinks)!… dance on the table tops after dinner to latino beats. Ole!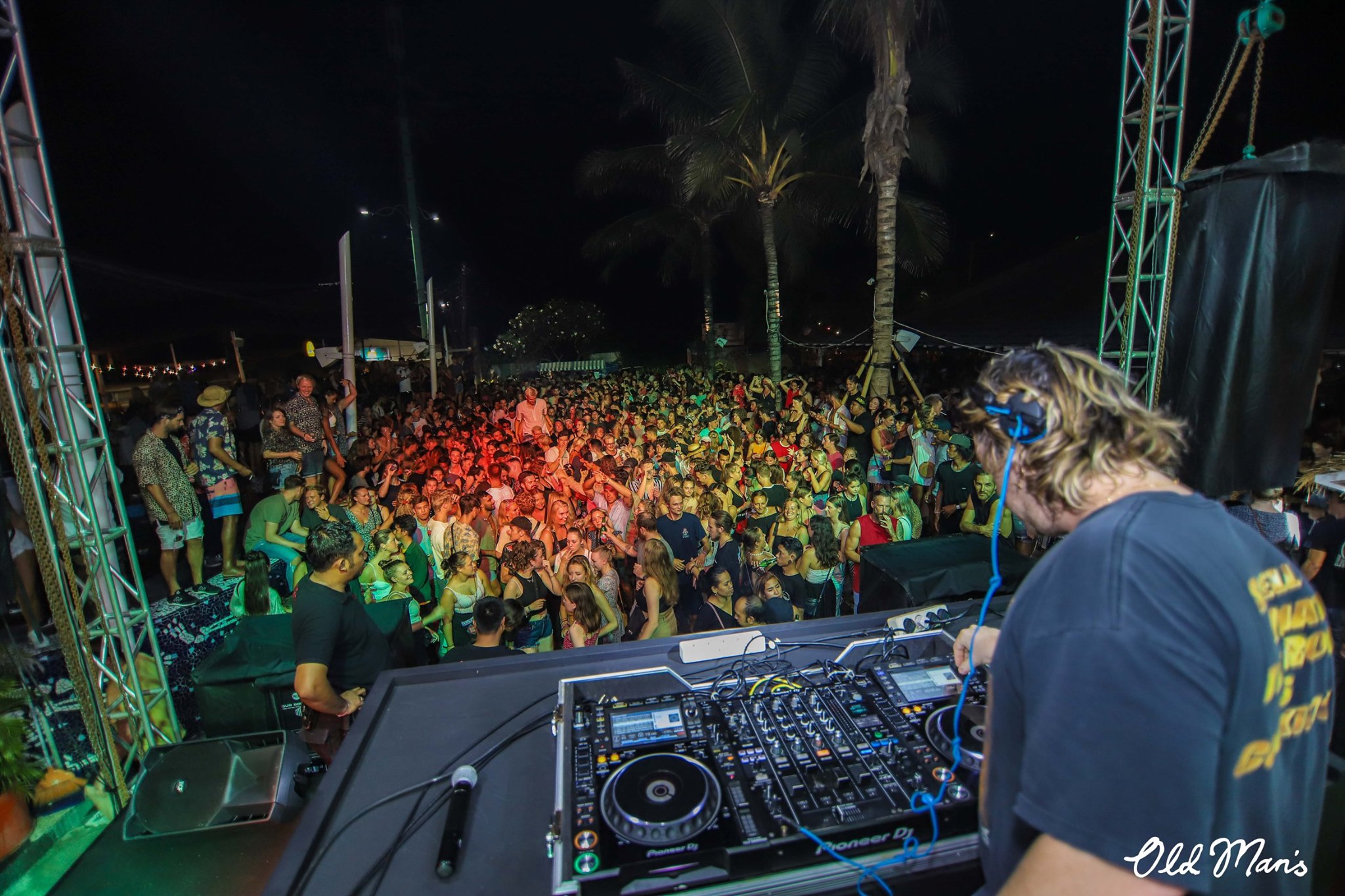 Canggu: Hipster beat
Where the cool kids are at. Chill with surfers, skaters, street artists, and digital nomads in hipster haunts where there's always something going on. When on a Bali solo travel trip, you're sure to be comfortable in laid-back Canggu!
Old Man's is vibrant and busy after sunset, as most get their Bintangs here after a day out on Batu Bolong beach. Check out Dirty Ol' Wednesdays for the Beer Pong Championship.
The Sand Bar is a casual bar you can come to on any night of the week for music and drinks. If you come early enough, you can catch the surfers out on echo beach catching waves before the sun sets.
Deus Café: The über cool Temple of Enthusiasm for boards, bikes, beverages and bites, and bands at night. Sundays are sweet, tattoos and tacos too on Tuesdays.
Pretty Poison is a taste of a backyard Euro skatebowl, (music mandatory of course, depends on the night; Thursdays are gnarly).
Black Cat Mini Market: Peek in the fridge for some chill surprises. A speakeasy hidden in plain sight; come for booze, bands, and a pool table to play or dance on.
Gimme Shelter is the go-to place for rock n' roll. The local crowd, headed by Balinese musician Made Jay also play punk, grunge, and/or metal music on other nights.
Pablo's South American Latino vibes and new age music meets old school hip-hop. Check out #rumbleinthejungle hip-hop night on Wednesdays.
Uluwatu: Surfers' Haven
El Kabron Cliff Club is a Spanish and Mediterranean restaurant perched 50 meters above sea level on the cliffs of land's end. Enjoy food, drinks, and DJ sets with a view of the most secluded sunset over the Bukit peninsula.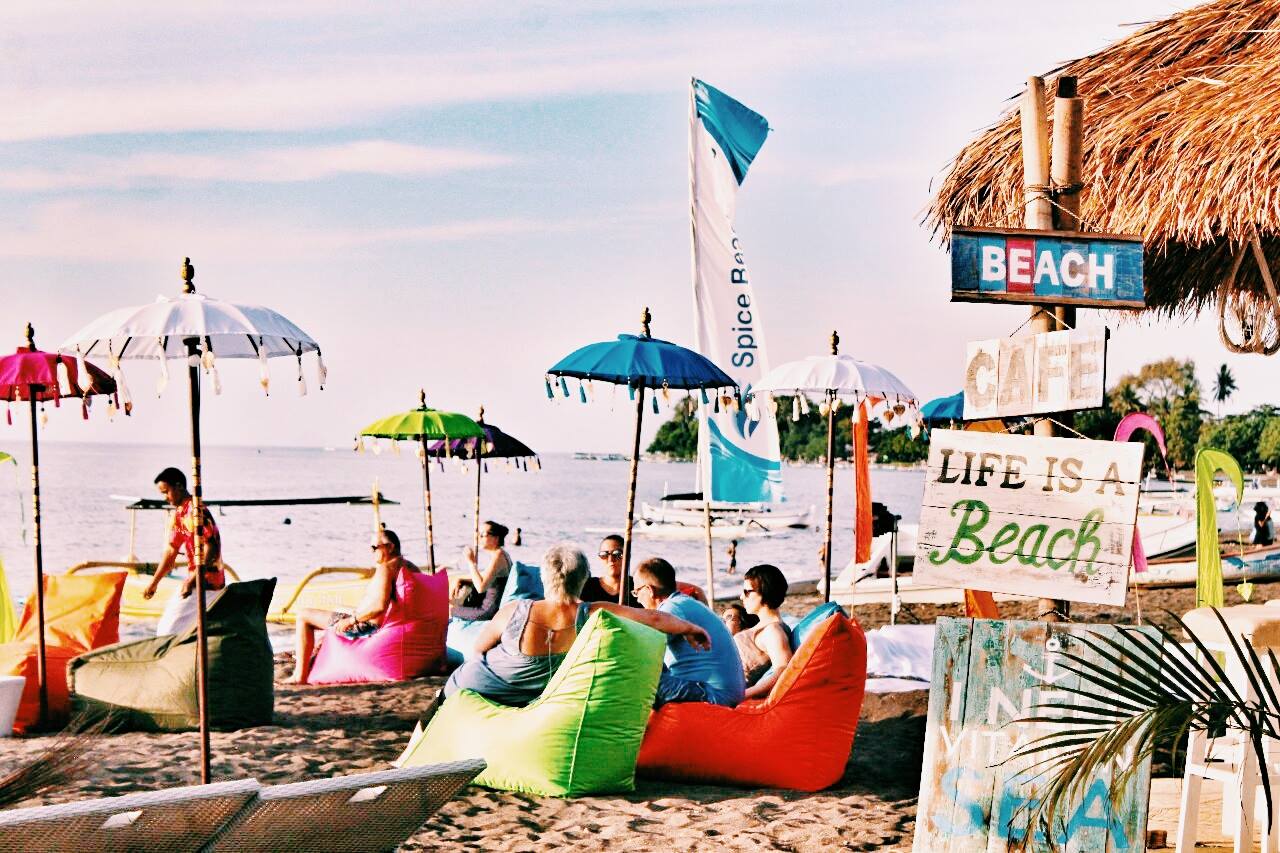 Central Bali: Ubud & around
More subdued, but you can still spend a refined night out in Ubud. Enjoy cultural night performances with traditional dances in the Puri Saren Royal Palace.
Some establishments in town offer after-hours food, drinks, and entertainment, like The Laughing Buddha, The Melting Pot, and No Mas. You can also drive a bit further from Ubud and check out the eclectic happenings and divine dishes in Akasha at NewEarth Haven.
North Bali offers options for nightlife in Lovina Beach. Check out Pashaa Night Club, Spice Beach Club, Vulcano Club, and Kantin 21.
The West and East coasts of Bali are more quiet, with a laidback night scene in Candidasa.
Take the fast boat to the southeastern islands, and check out the scene in Nusa Lembongan. Go to Blue Corner by Jungutbatu beach or catch a movie on the big screen at Hai Bar. If the timing is right, you'll even catch a full moon party!
Whether traveling solo, with friends, or as a couple, the nightlife scene is a great way to meet cool people and enjoy the island after dark. Don't forget to do so responsibly (remember: safety is sexy so don't drink and drive!), have fun, and make the most out of your Bali vacation!
Did we miss anything? Do you have any hot spots to add? Did we get something wrong? Let us know in the comments below!
Further reading on Bali:
How to navigate Bali as a solo traveller
Gallery: Bali Sundowners – The Island Nightlife Experience
For a full list of TripGuru's activities in Bali, click here