Can you really say you've gone on a trip to Indonesia – the land of beautiful Balinese temples and stunning, natural waterfalls – if you haven't tried its local cuisine? Indonesian food boasts vibrant dishes designed to tingle your palate and whet your taste buds. Not sure where to begin? Here are ten must-try Indonesian food to get you started.
1. Nasi goreng (Indonesian fried rice)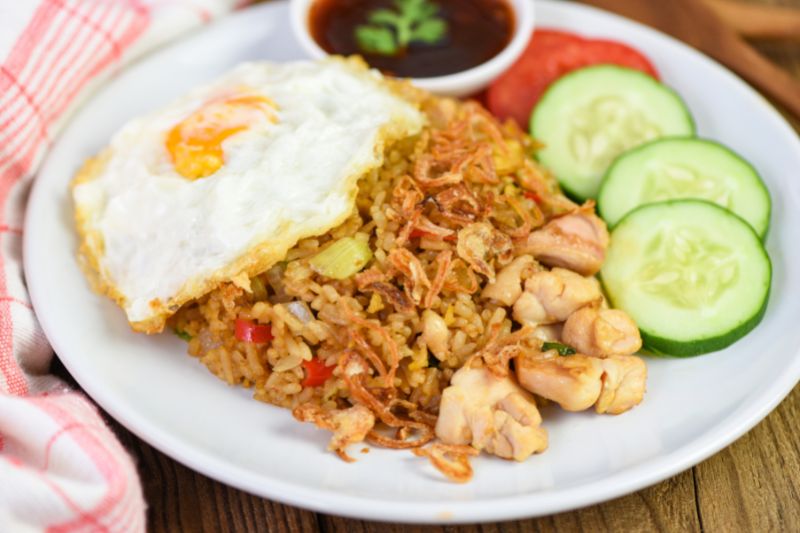 What pad thai is to Thailand, nasi goreng is to Indonesia. Leftover fried rice with pieces of meat, vegetables, and spices make up this quintessential Indonesian dish. You'll find different versions of nasi goreng all over the country, in every restaurant, food stall, and canteen.
2. Satay (grilled meat skewers)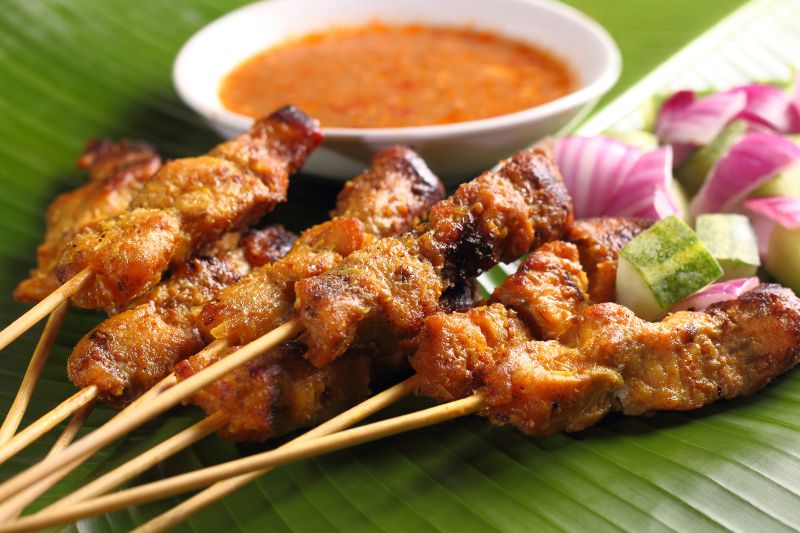 Satay is best eaten in the streets by a local vendor grilling it right before you. These are marinated pieces of meat barbecued over an open flame and usually served with peanut sauce. The most popular version of satay is chicken, with most street food vendors and restaurants offering them. You can also find pork, tofu, and even a plant-based version called tempeh satay at some restaurants.
3. Bakso (meatball soup)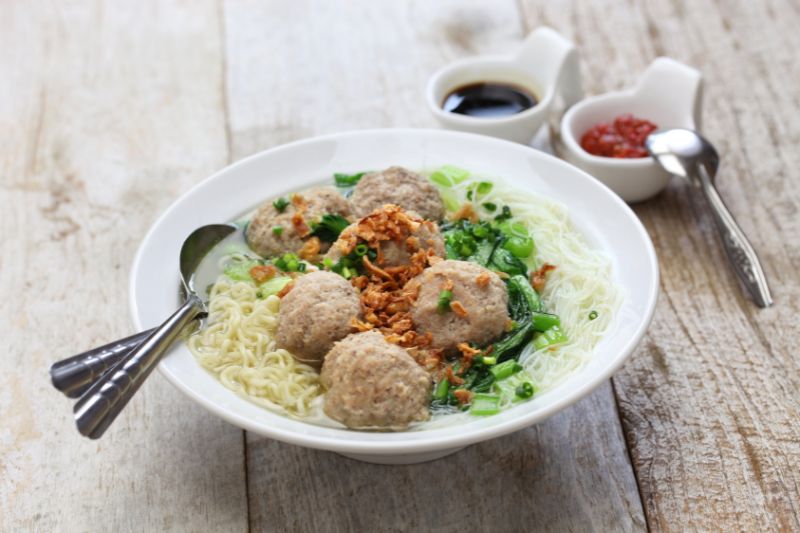 This soup consists of meatballs (chicken, beef, fish, shrimp, or pork) in a savory beef broth with vermicelli rice noodles, green onions, sliced vegetables, and fried shallots. Bakso is also usually served with soy sauce and sambal on the side.
4. Rendang (spicy beef stew)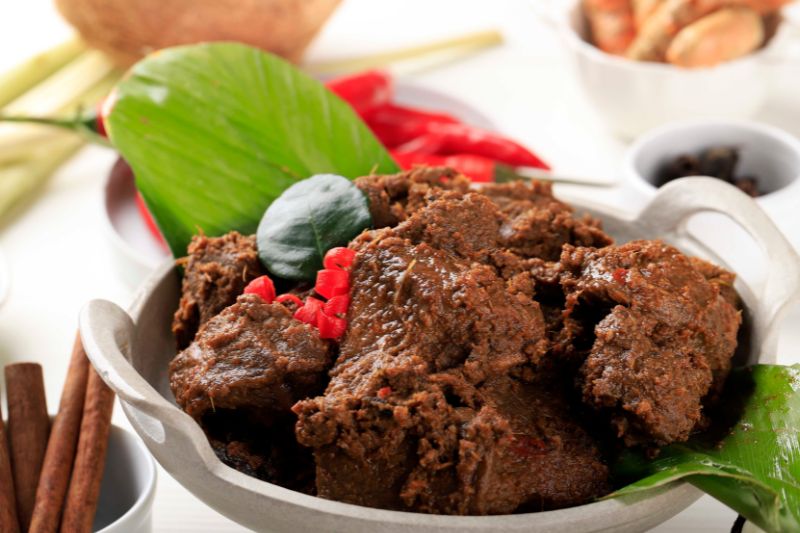 Rendang is for you if you're looking for spicy, rich goodness. The beloved Indonesian beef stew is cooked in spiced coconut milk for hours until the beef becomes tender, moist, and melts in your mouth.
5. Rawon (black beef soup)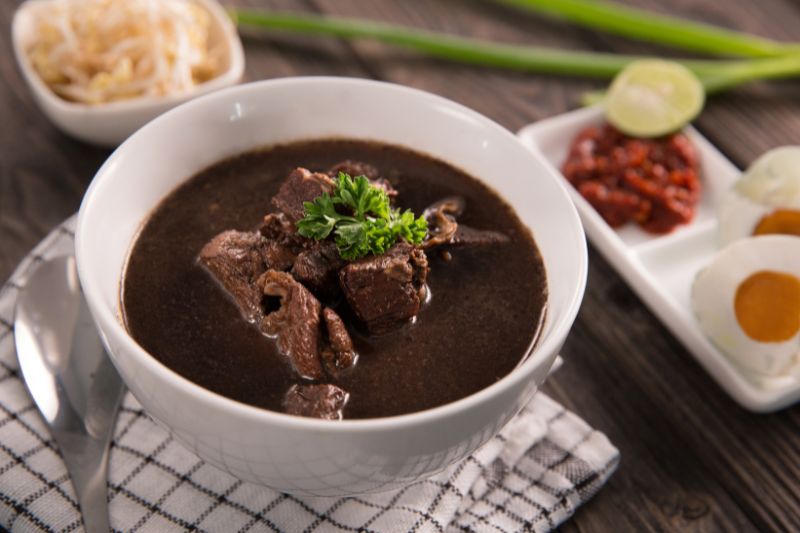 Don't be intimidated by rawon soup's inky hue. The most iconic version is the black keluak nut (hence the soup's color), with tender cuts of beef braised in spices and herbs that make this East Javan dish. The broth is rich, nutty, and earthy – served with boiled egg and rice.
6. Gado-gado (Javanese vegetable salad with peanut sauce)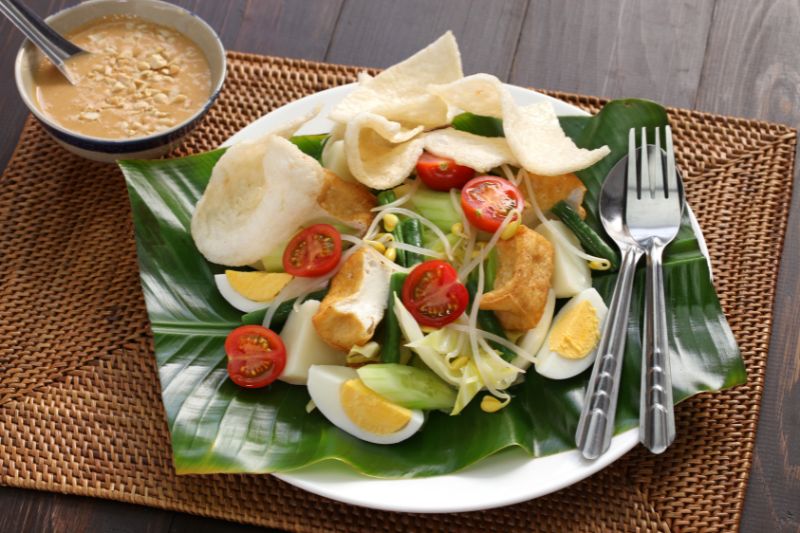 Gado-gado is one of the milder dishes on this list. Essentially a big bowl of salad, find blanched seasonal vegetables such as potatoes, beans, bean sprouts, spinach, corn, cabbage, and cucumber here. It is smothered in a rich peanut sauce and served with fried tofu, tempeh, and boiled egg. Perfect for vegetarians!
7. Pempek (fishcake with vinegar sauce)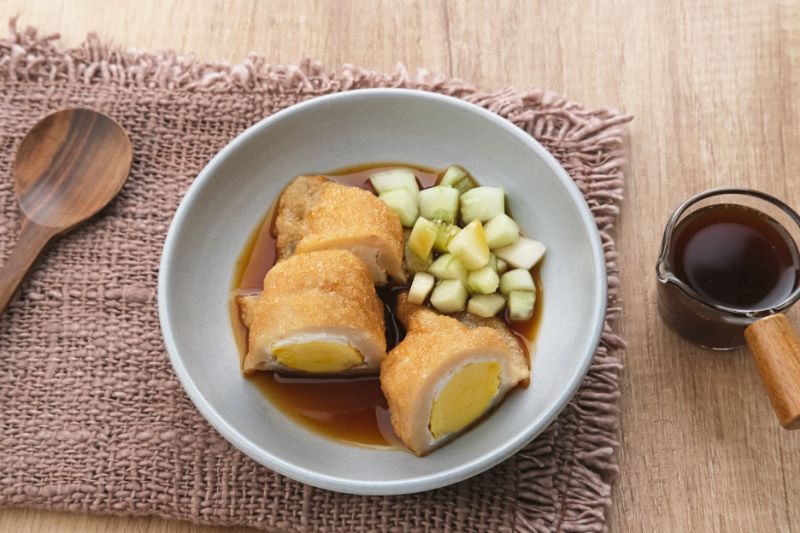 Grounded fish meat and tapioca are stars of this famous street snack. Pempek is deep-fried until it is crispy on the outside and soft and chewy on the inside. Moreover, it comprises a punchy sauce made with palm sugar, vinegar, chili pepper, ground-dried shrimp, salt, and garlic. Eat this Indonesian food with sliced cucumber and yellow noodles, and it is simply *chef's kiss*!
8. Gudeg (young/green jackfruit stew)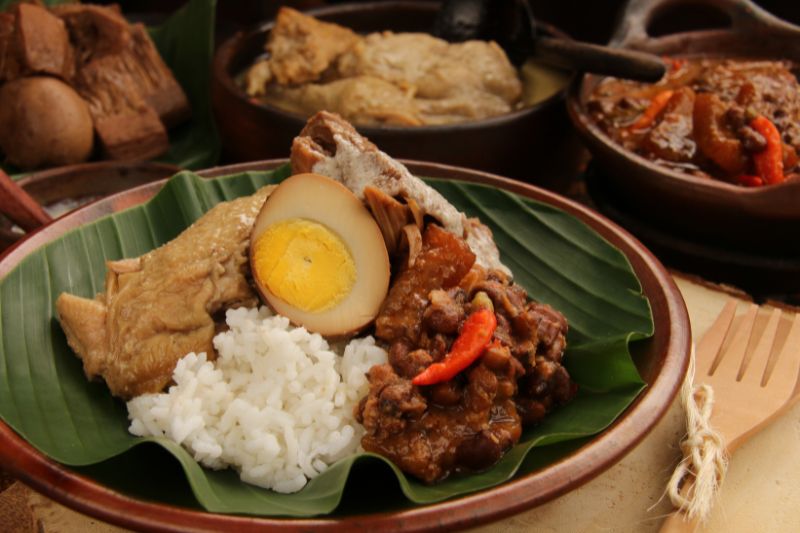 You'll find gudeg mostly in Yogyakarta, an hour's flight away from Bali. This vegetarian-friendly Indonesian dish is braised for hours in palm sugar, coconut milk, herbs, and spices, with young jackfruit as its base. Pair the slightly sweet gudeg with condiments such as chicken, hard-boiled eggs, tempeh, tofu, and crispy beef skin with chili sauce for the best dining experience.
9. Sop buntut (oxtail soup)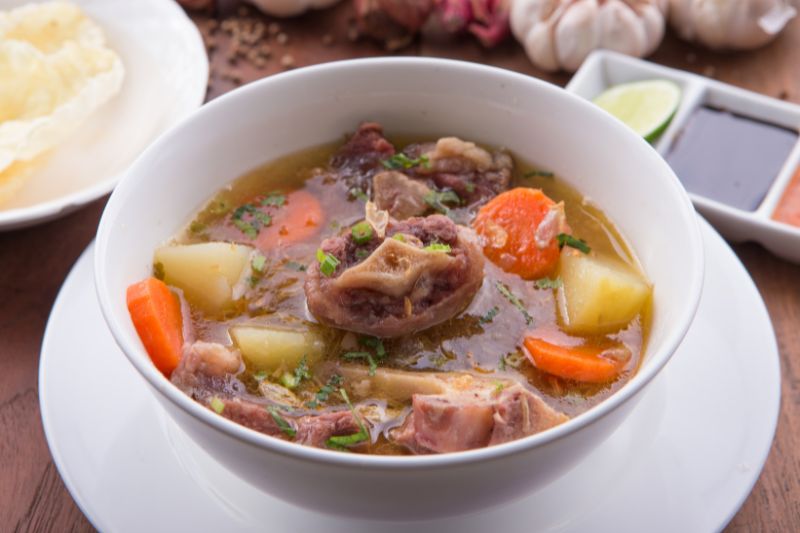 This heartwarming and flavor-packed Indonesian dish contains oxtails that are simmered for hours to create a hearty, salty, spicy broth. Also, you'll typically find carrots, potatoes, garlic, shallots, and onions in a bowl of sop buntut. 
10. Martabak (Indonesian pancake)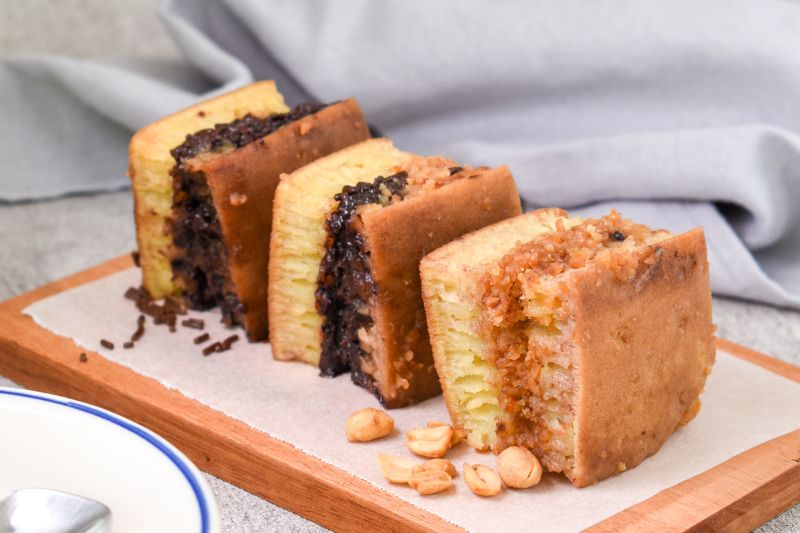 Think: a thick, fluffy pancake stuffed with sweet fillings such as chocolate, peanuts, bananas, Nutella, and condensed milk that Indonesians love to indulge in as a sweet snack. Available in savory flavors, you can spot the popular dessert martabak at specialty shops.
TripGuru offers bespoke group tour experiences Bali, Lombok, and other select destinations in Indonesia. Book your tours here.