Planning your Phuket holiday? Whether you're big into retail therapy or are just a casual window shopper, it's best to enter the Phuket shopping scene prepared. We're breaking down the top markets and streets to bargain with local vendors, our favorite malls where you can find international brands, and niche shops to get specific items unique to Thailand as a destination. 
Ready for our list? Strap in and get your cash ready, because we're dishing out everything you need to know about shopping in Phuket. 
Street Markets
Here are some of the best shopping streets and open-air markets you should definitely visit:
Phuket Weekend Market: Chatuchak's little sister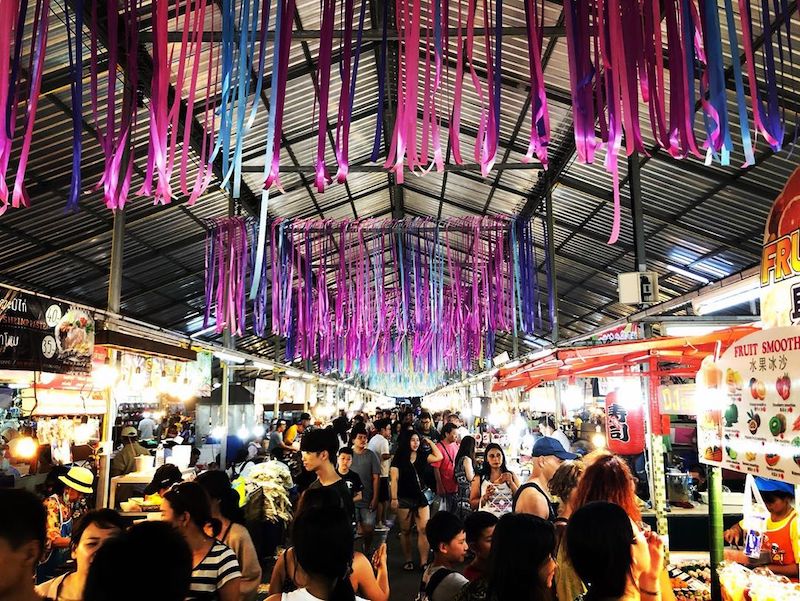 Comparable to Bangkok's famous Chatuchak Market, the Phuket Weekend Market is the city's largest market. The entire place can roughly be categorized according to area: one for secondhand knock-offs, the next for new items like accessories, toys, and clothing, and another for food stalls.
Thalang Rd, Tambon Talat Yai, Mueang Phuket District, Phuket 83000, Thailand
Chillva Market: For the foodies and fashionistas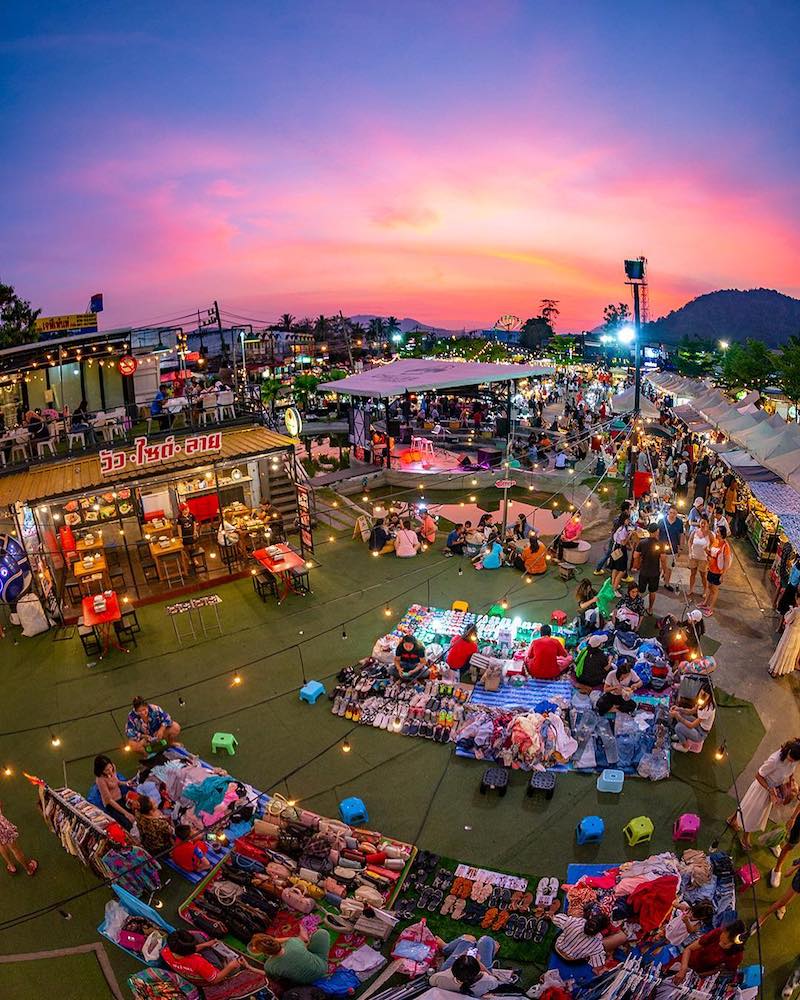 Hip, trendy, and totally Instagrammable, the Chillva Market's bohemian vibes lure fashionistas, foodies, and locals. Besides bargaining for a few pieces of colorful clothing and accessories, make sure to sample the cheap eye-catching food as well. The vibrant ice cream saloons, chic coffee shops, and groovy pubs make this place totally worth visiting!
Ratsada, Mueang Phuket District, Phuket 83000, Thailand
Karon Bazaar: Truly Thai merch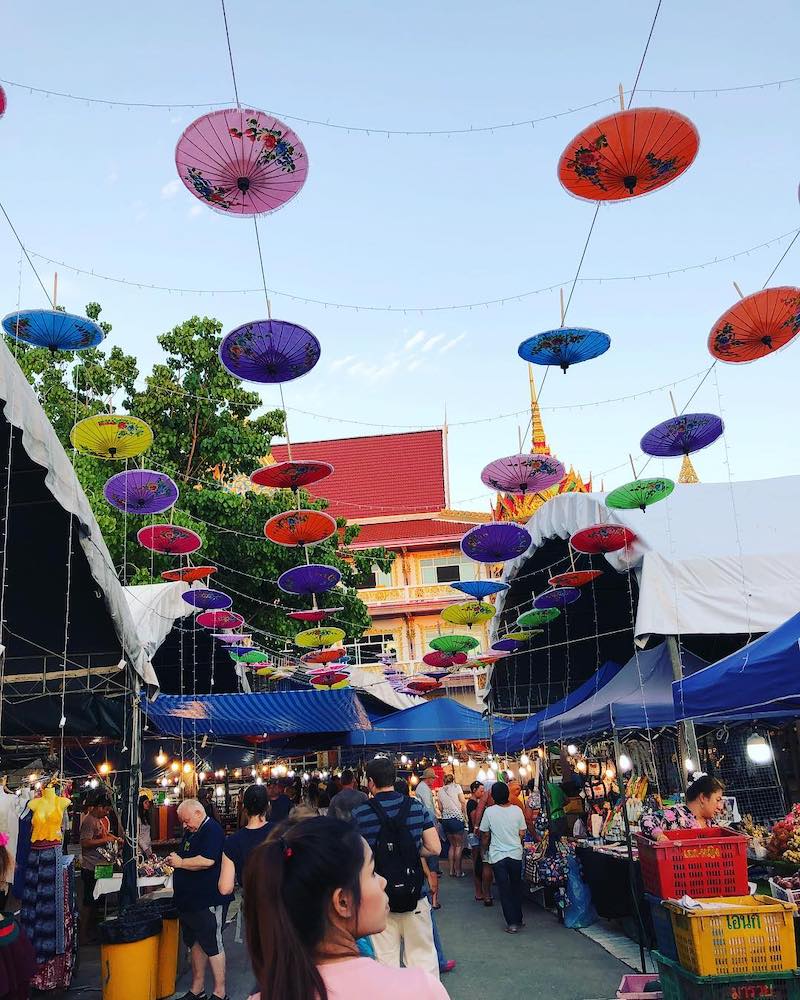 If you're on the hunt for local and authentic products, head to the Karon Bazaar to begin your prowl. Also known as the Karon Market or Karon Temple Market (since it is set up in the vicinity of Wat Karon), you'll encounter lot of souvenir-worthy merchandise here. Think Thai sarongs, Singha branded clothing, Muay Thai shorts and the like.
Karon, Mueang Phuket District, Phuket 83100, Thailand
Phuket Indy Market: The unique souvenir haunt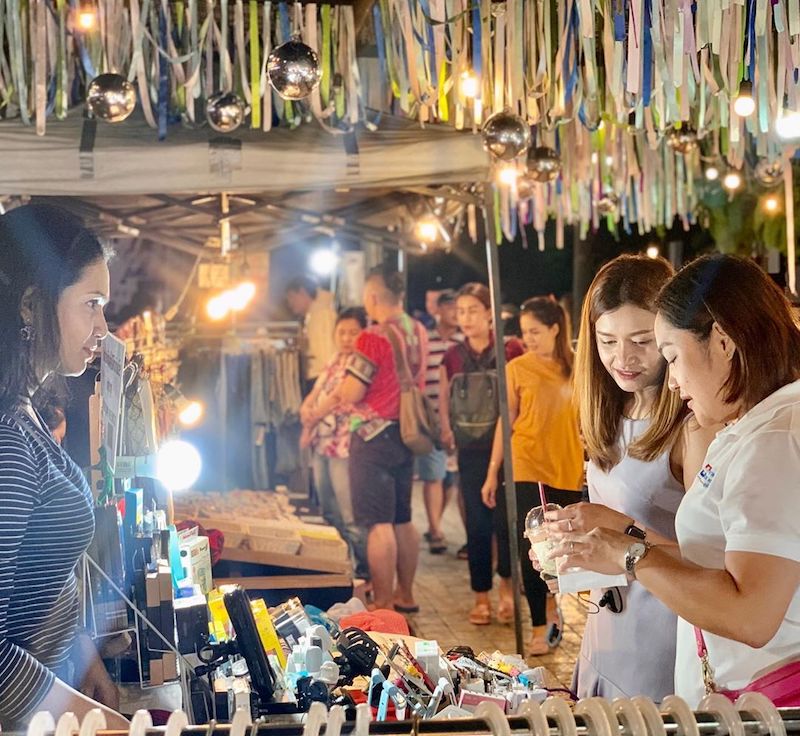 Not quite as popular with foreigners, this local haunt is famed for cheap Thai snacks and customizable items. Think vendors who'd engrave your name onto a piece of jewellery or bag, or artists who'd sketch your portrait or caricature of a loved one.
Talat Yai, Mueang Phuket District, Phuket 83000, Thailand
Malin Plaza Patong: Where eating and shopping are one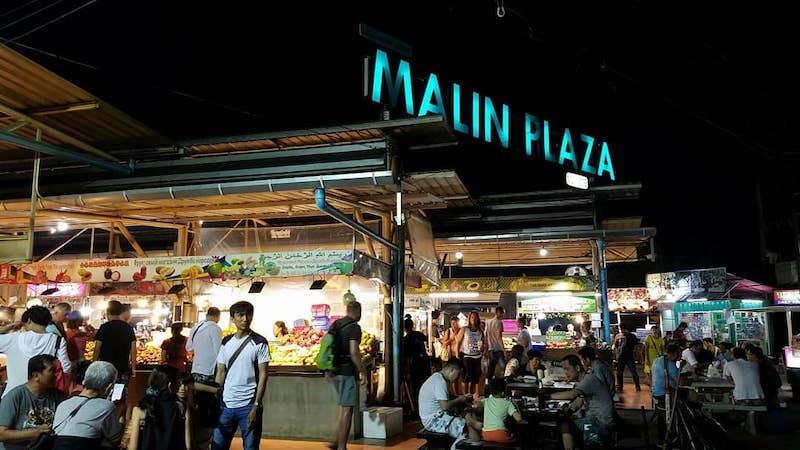 If you like to eat while shopping or shop while eating, then Malin Plaza Patong is the perfect place for you! Though the place is better known for its delicious and cheap street food than its overall merchandise, it won't hurt to buy a few skewers of pork or seafood and some fresh fruit while browsing the aisles… right?
And if you still can't get enough of Phuket eats, check out our guide to the best restaurants in the area!
52 83150 162/51-52 ภก.4055 Pa Tong, Kathu District, Phuket 83150, Thailand
Banzaan Fresh Market: The cleanest market you ever did see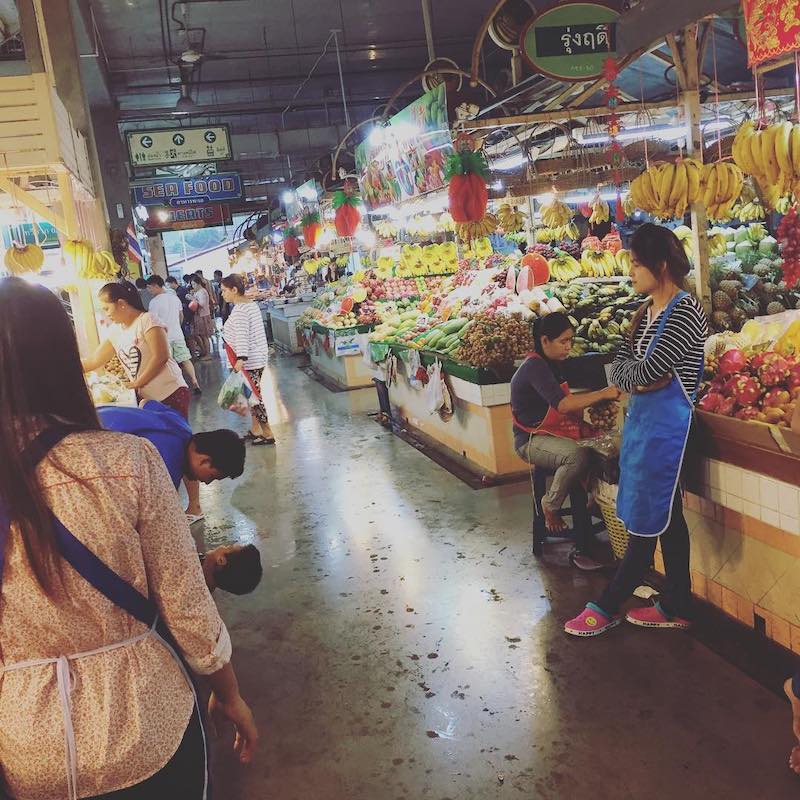 This isn't your typical market. Besides being scrupulously clean, having a food court on the second floor, and escalators (yes, escalators!), the Banzaan Market is known for its fresh produce like meat, seafood, fruit and more. So if you'd like to skip a trip to the grocery in favor of Banzaan, go right ahead!
Pa Tong, Kathu District, Phuket 83150, Thailand
Phuket Walking Street: Family-friendly fun
This charming walking street along Thalang Road in Phuket's Old Town sits right smack in the middle of renovated Sino-Portuguese shophouses. Given the many toy stalls and trampolines (free of charge!) in the area, it's not uncommon to find families and kids strolling down the street. There are also a number of handicraft stores, coffee shops, bars, restaurants, and (of course) kiosk upon kiosk of street food. What doesn't this place have?
Thalang Rd, Tambon Talat Yai, Mueang Phuket District, Phuket 83000, Thailand
Shopping Malls
If you still haven't satisfied your shopping urges, head to the malls where you'll find popular brands and dozens upon dozens of eateries both local and international. From huge shopping complexes to compact two-storey buildings, Phuket's shopping malls are filled to the brim with a mixture of everything you could possibly want – and then some! Check out our top picks: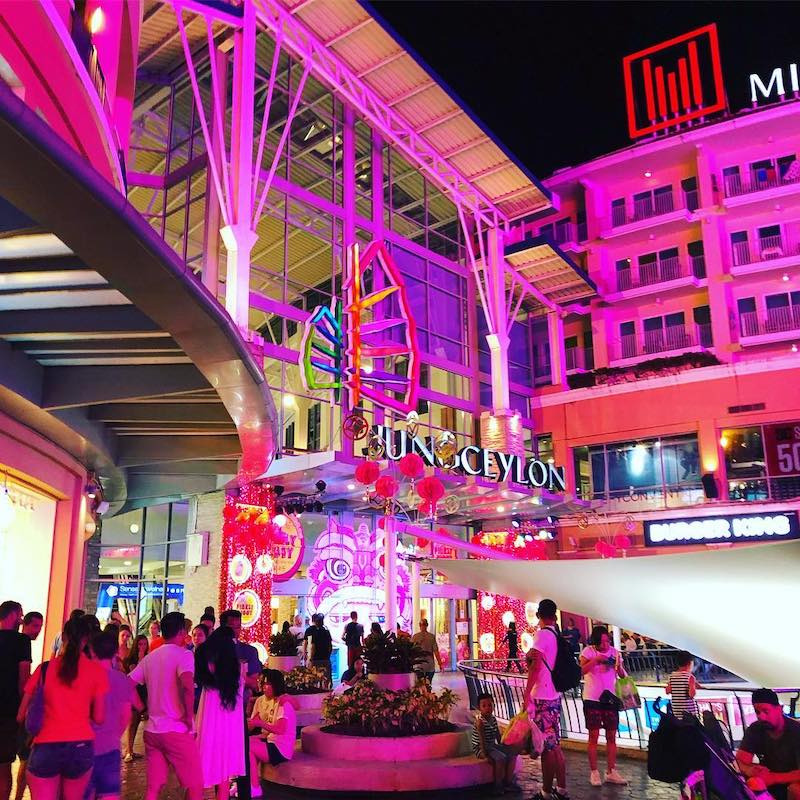 This huge complex situated in the heart of Patong Beach has literally everything you could ask for – a grocery, movie theater, department store, night clubs, bars and restaurants. Honestly, you could get lost in Jungceylon, but isn't that all part of the fun?
ถนน ราษฎร์อุทิศ 200 ปี Pa Tong, Kathu District, Phuket 83150, Thailand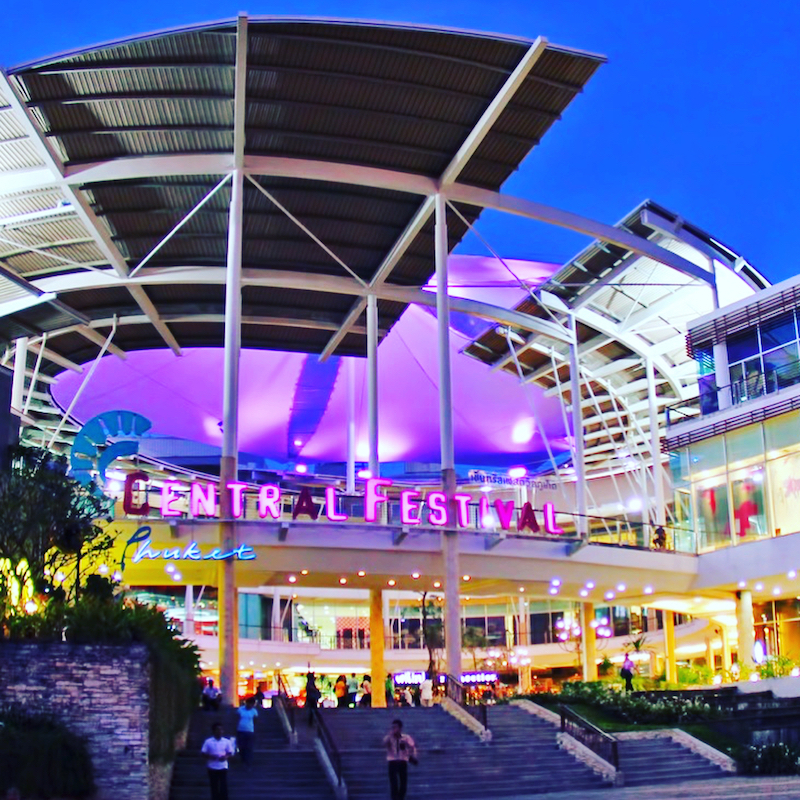 Another large shopping mall to rival Jungceylon, Central Festival has over 120 stores you can happily browse before taking a break in one of its many Thai restaurants (or the cinema). After reenergizing with a good bowl of food, you can go again and scavenge the rest of the mall for gifts to family and friends.
74 75 Vichitsongkram Rd, Wichit, Mueang Phuket District, Phuket 83000, Thailand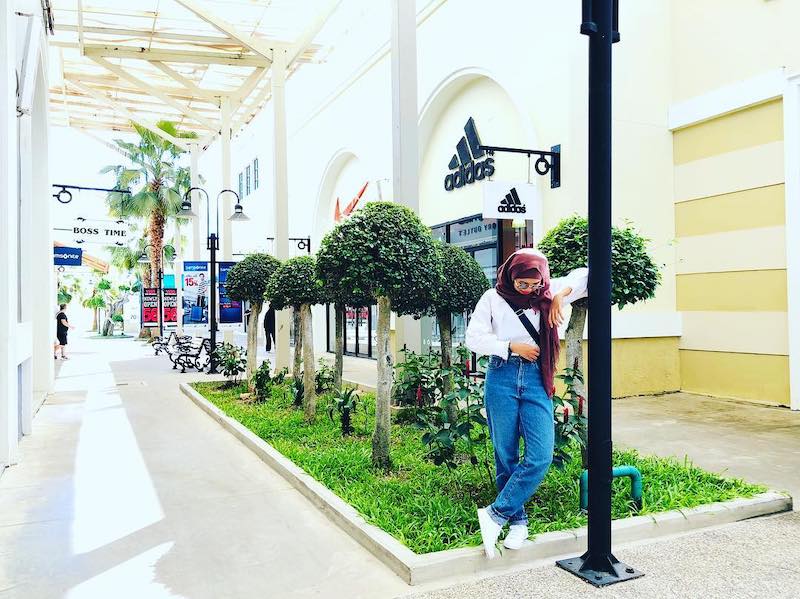 If you're looking for big discounts of your favorite brands, then Premium Outlet is your go-to place. Think Adidas, Nike, Lacoste, Pierre Cardin, Levi's, Hush Puppies, Van Heusen, Guy Laroche, and more. There are also a few shops that sell local goods such as sarongs, shells, scarves, handbags, and more.
หมู่ที่ 2, 888, 888/1 Chalermprakiat Ratchakan Thi 9 Road, Ko Kaeo, Mueang Phuket District, Phuket 83000, Thailand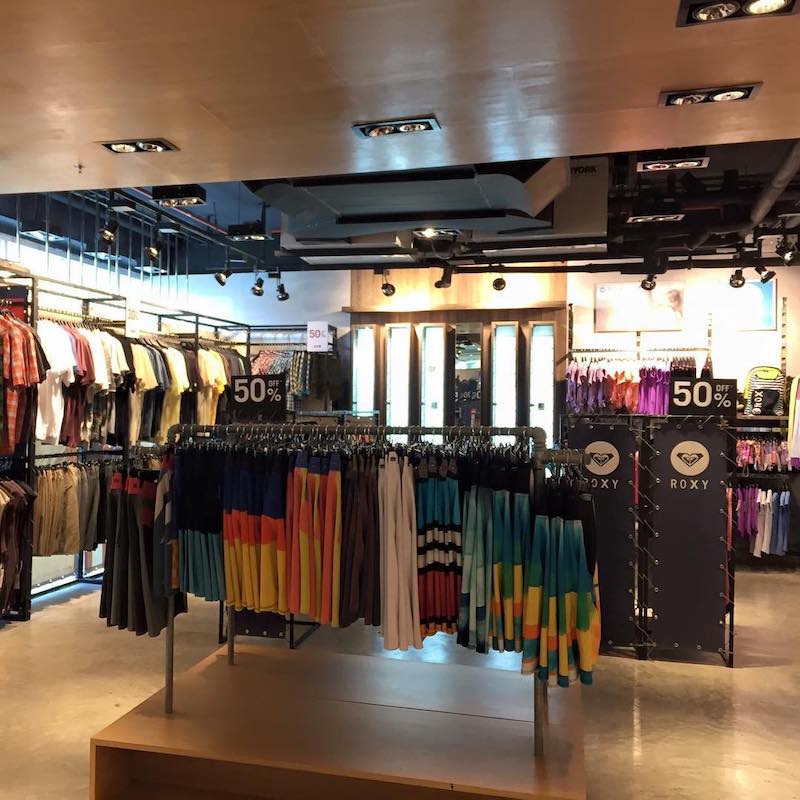 Just a few steps away from Soi Bangla is Phuket's hippest mall with numerous eateries and bars. Besides being a convenient spot for a quick meal, this futuristic-looking complex also houses several salons, a grocery store, sports shops, clothing stores, and a few gift shops. If you find yourself needing something like a toothbrush or hat, make a pitstop in Banana Walk for anything you might have forgotten at home. 
124/11 Thawewong Rd, Pa Tong, Kathu District, Phuket 83150, Thailand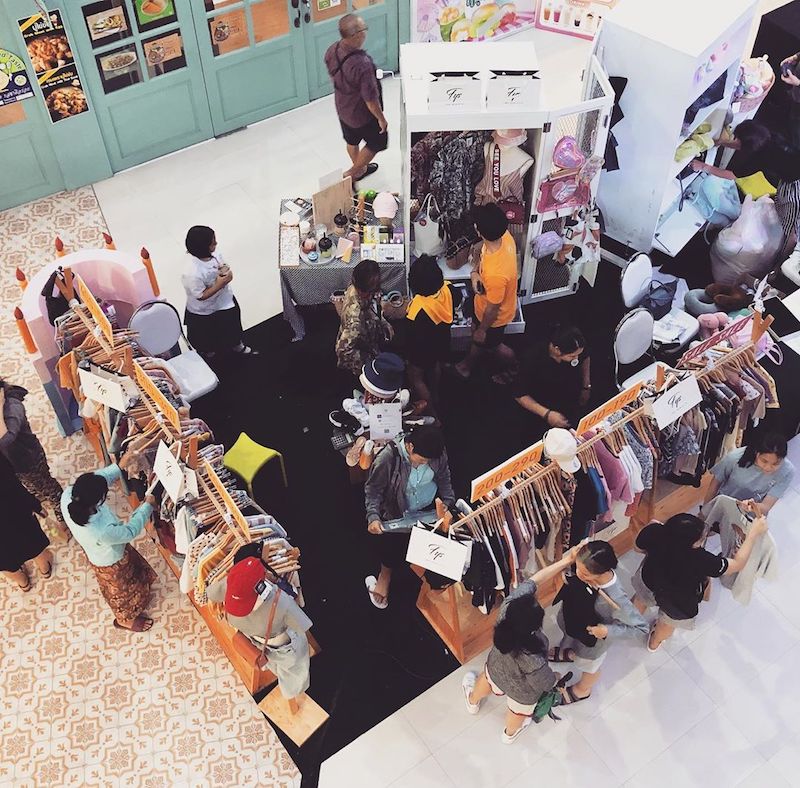 This two-storey shopping mall may not be as large as the preceding establishments, but it is filled with a nice mix of everything you could want without having to get lost – a grocery, coffee shops, a sprinkling of restaurants, a few dozen boutiques and outlets, some salons, a music shop, and even laundry service. Don't underestimate the goods you can find in Limelight!
2/23 Dibuk Rd, ตำบล ตลาดใหญ่ อำเภอ เมืองภูเก็ต Phuket 83000, Thailand
Specialty Shops
Once you've exhausted the markets, streets and malls, it's time to hit the specialty shops. Phuket is known for its silk and textiles, jewellery (especially pearls), ceramics, dried fruit, and other artisanal handicrafts.
Jim Thompson Factory Outlet for elegant silks and handbags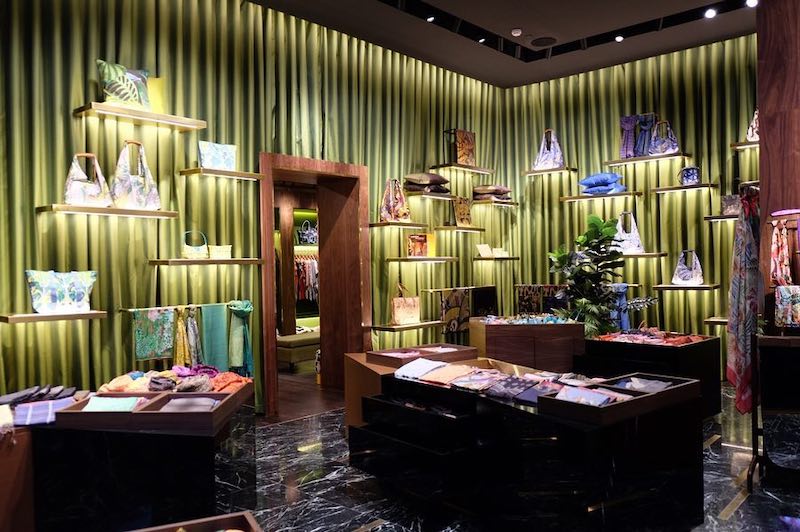 A household name in Thailand, this outlet is named after Jim Thompson, an American businessman who helped to resurrect Thailand's silk trade. It carries more than just the silks they're famous for; you can find leather wallets, high quality handbags, scarves and handkerchiefs, ornamental knick knacks, and even furniture here. The boutique is located on the ground floor of Central Festival shopping mall.
5 90 Thanon Chao Fa, Talat Nuea, Mueang Phuket District, Phuket 83000, Thailand
Phuket Pearl for luxurious pearl jewellery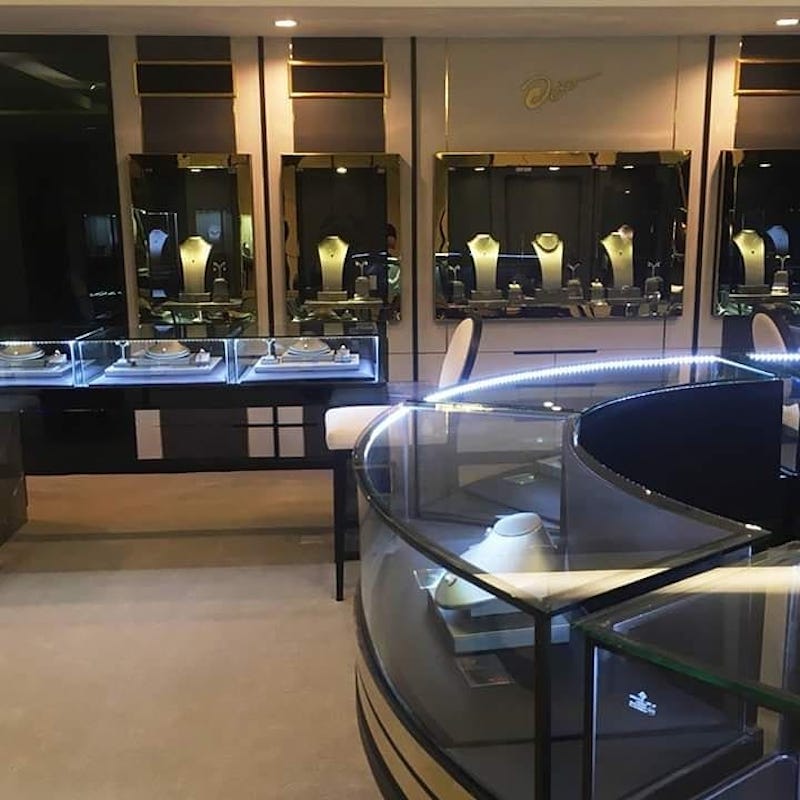 One of the oldest pearl shops in the city, Phuket Pearl takes pride in the precious pearls they culture, having been chosen to adorn many a crown for numerous beauty pageants. They also offers tours during which you can visit their pearl farms to see the oysters they breed to create the perfect spheres. 
58/2 Thepkrasatree Rd, Ko Kaeo, Mueang Phuket District, 83000, Thailand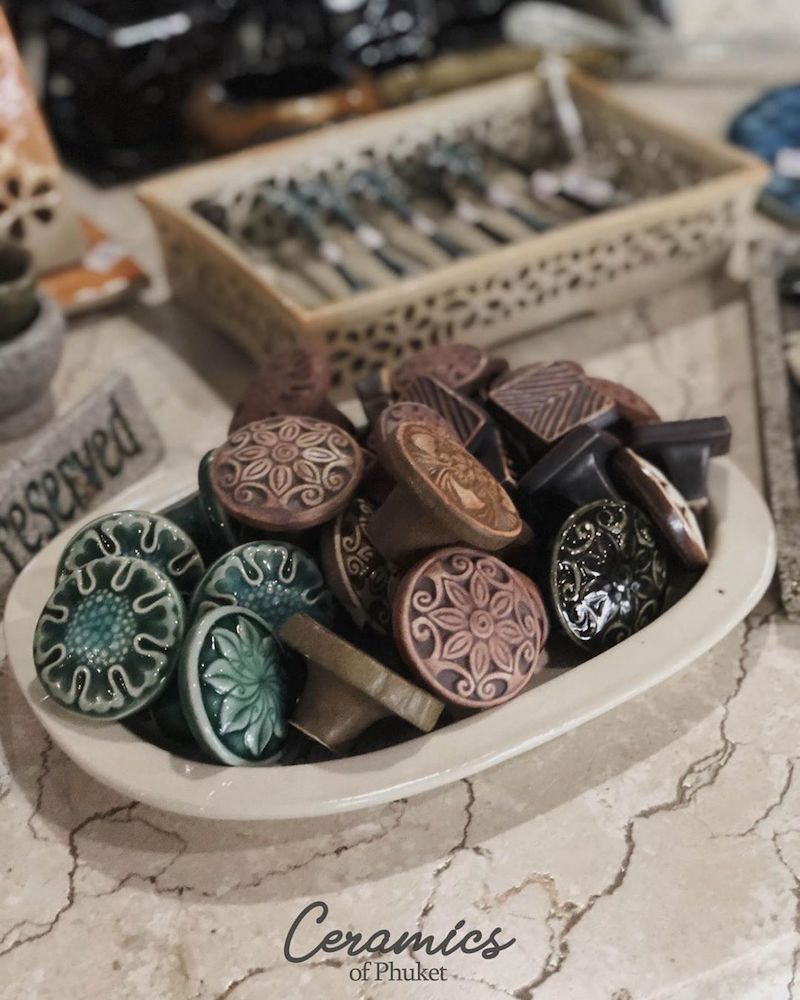 If fine and dainty ceramic pieces are what you're looking for, Ceramics of Phuket has got the best in the area. Made out of a local clay, the brand features homeware, kitchenware, and other decorative items. They've created decor for some of the top luxury hotels in Bangkok, as well as internationally including the Maldives, Hong Kong and Singapore.
73 ม .1 1 ถนนวิชิตสงคราม Kathu, Kathu District, Phuket 83120, Thailand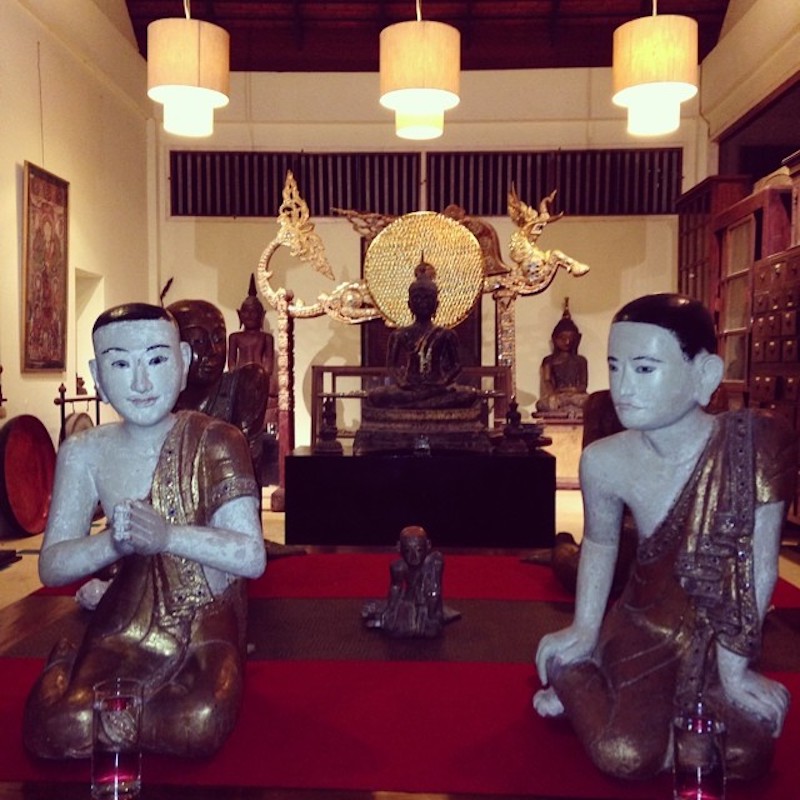 Not to be confused with Ban Boran Textiles, Ban Boran Antiques is an intriguing store to visit for its large collection of vintage and antique pieces, glassware, heritage art, handicrafts, ornate silver, and many other collectibles. They also have a fine selection of silks and excellent customer service. 
24 Takaupa Road, Tambol Talad Yai, Amphoe Muang, Phuket 83000, Thailand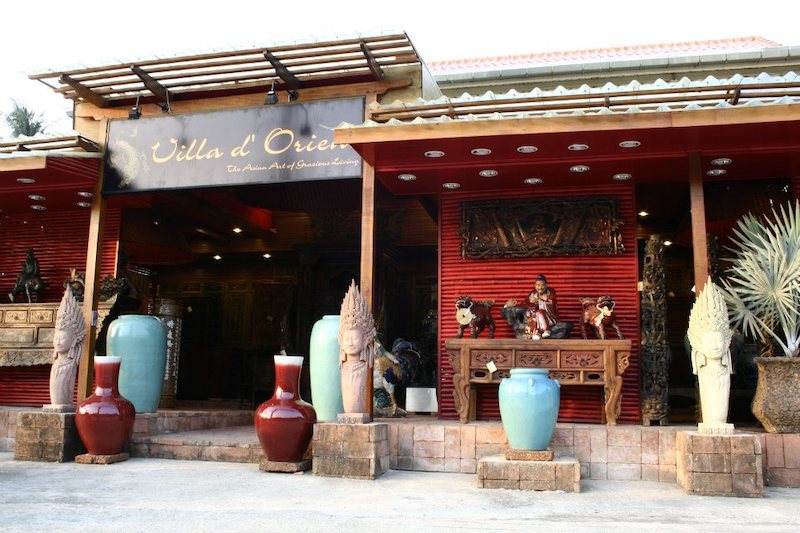 For excellent Chinese antiques and other vintage artefacts, head to Fine Orient (also known as Villa d'Orient). They also sell furniture as well as handicrafts from Tibet and Mongolia. Their tasteful curation has placed them on the radar of Chinoiserie aficionados and collectors.
Wichit, Mueang Phuket District, Phuket 83000, Thailand
Think Positive for reasonably priced handicrafts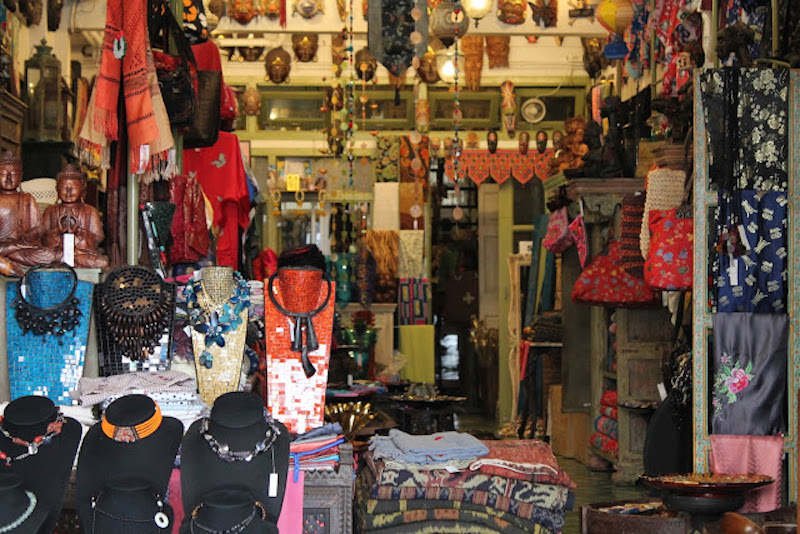 Known locally as 'Kit Dee', Think Positive sells a hodgepodge of merchandise from all over Asia including Thailand, China, Japan, Myanmar and India. You can find everything from Buddha images and wooden boxes to hand-painted ornaments and silk gowns. It might be a lot to take in at first sight, but take a closer look and you'll find some truly great deals.
15 Yaowaraj Rd, Phuket Town, Phuket 83000, Thailand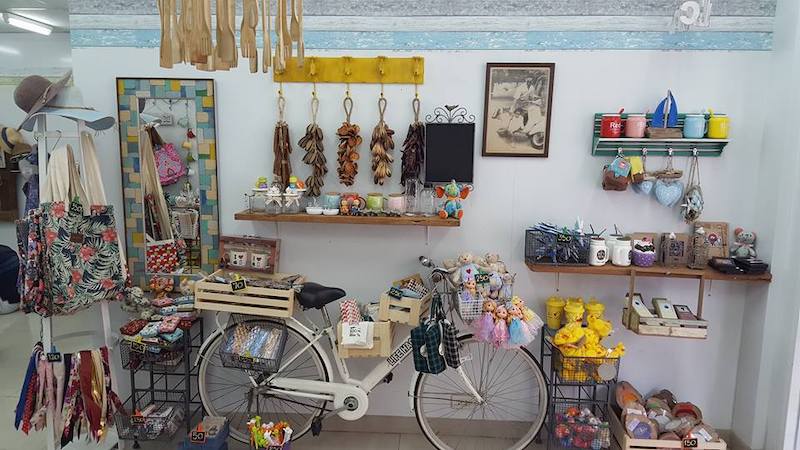 If you're in the market for cute, kitschy knickknacks, then you'll love Blue Vanilla. They've got everything from printed cloth bags and handmade jewellery to colorful mugs and even airplane pillows! With pastel-colored interiors filled to the brim with all sorts of souvenir-worthy items, it might be hard to stop yourself from buying everything in the shop!
Karon, Mueang Phuket District, Phuket 83100, Thailand
Kimjae Souvenir Shop for local delicacies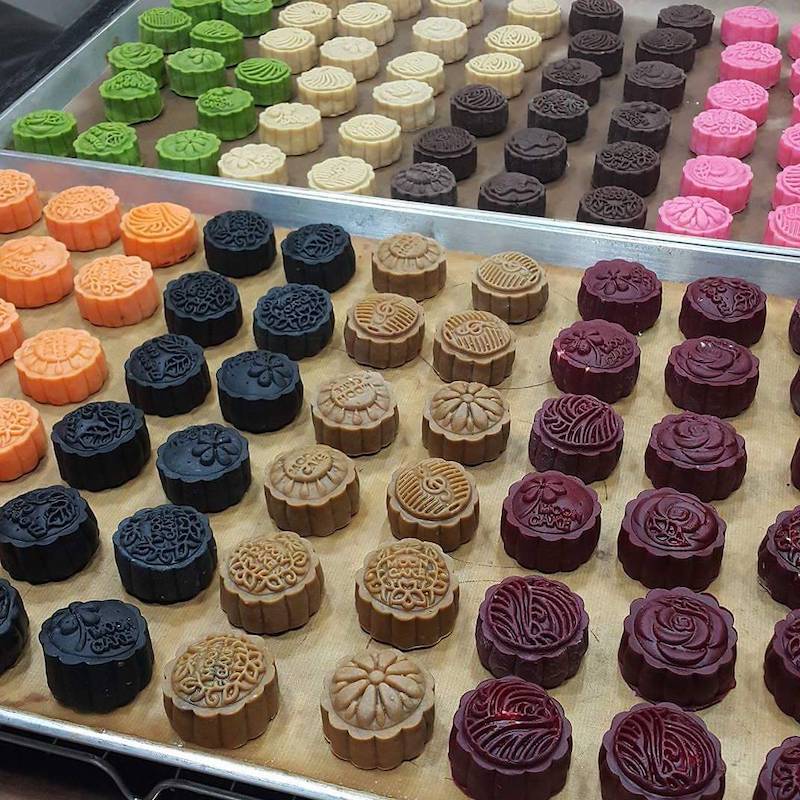 This humble hole-in-the-wall has got some of the tastiest (and prettiest) local delicacies around. Take home packaged goodies for your friends or simply dine at the shop-restaurant before leaving Phuket. (P.S. We also recommend trying their spicy fish and prawns!)
36 Krabi, Talat Nuea, Mueang Phuket District, Phuket 83000, Thailand
Where will you start the shopping expedition? Did we miss anything essential? Let us know in the comments! For more Phuket info, check out our Phuket City Guide.